Yuen Woo-ping Capsule Reviews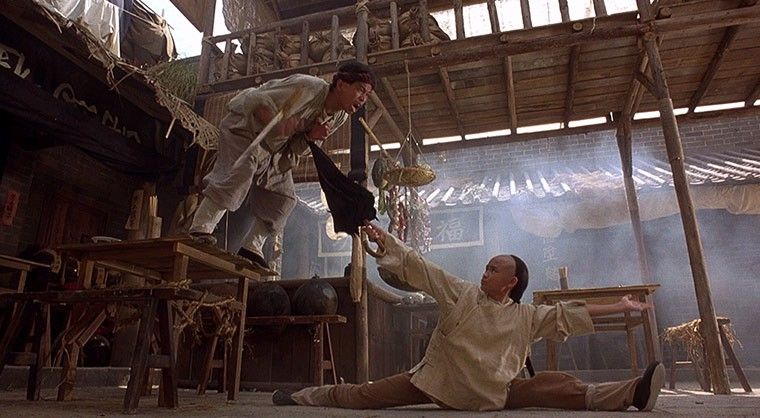 Drunken Master (1978) — June 13, 2013
Much better subtitled than dubbed (obviously). Even still, the subs translate Jackie Chan's character's name as "Freddy Wong," which kind of obscures one of the most interesting things about the film: that it's a total subversion of the Wong Fei-hung legend. It's somewhat akin to what Young Mr. Lincoln would have been like had Lincoln been played like John Belushi's character from Animal House. A glorious sacrilege.
Added May 28, 2017:
Power and wealth are to no avail
Let only our drinking prevail
A sober man and the sages
are both lost through the ages
But all our brave drinkers never shall die
But all our brave drinkers never shall die
Even the king couldn't stop my drinking
Let's drink a toast to our ship that's sinking
With uplifted cup, I say to the moon
Why does my shadow appear to swoon?
Wine is ready in cup, you see
Put down my cup
The horses are waging
Fallen in the fields of battle, the soldier says
Who will remember me?
Who will remember me?
On the Masters of Cinema Blu-Ray of this, Tony Rayns claims this is a famous Tang Dynasty poem by Li Po, but I can't find it either on the internet or in my Li Po book or any of my other books of Tang poetry. If you know where, if anywhere, it's from, let me know.
Addendum: After I posted the above on letterboxd, a reader named "uforock" left this comment, answering my question:
"I watched that scene with mandarin subs and did some research. It turns out to be several excerpts from different Tang poems (poets).
Drink down the wine
Cups should not rest!
I'll sing you songs
And it'll put your ears to the test, right?
Power and wealth are to no avail
Let only our drinking prevail
A sober man and the sages
are both lost through the ages
But all our brave drinkers never shall die
But all our brave drinkers never shall die
— This part is from Li Bai (Li Po)'s yuefu poem 將進酒 (Bring in the Wine)
Chen Fong produces wine like this by the ton.
You know why soldiers are always so young?
— Wang Wei, 少年行 (Poem of Youth)
Even the king couldn't stop my drinking
Let's drink a toast to our ship that's sinking
— Du Fu. 飲中八仙 (Eight Immortals of the Wind Cup), this excerpt refers to his friend Li Bai
With uplifted cup, I say to the moon
Why does my shadow appear to swoon?
— Li Bai, 月下獨酌 (Drinking Alone Under the Moon)
Wine is ready in cup, you see
Put down my cup
The horses are waging
Fallen in the fields of battle, the soldier says
Who will remember me?
Who will remember me?
— Wang Han, 涼州詞 (A Song of Liangzhou)
I'm not sure my translations for these titles are 100% accurate, but you should be able to find them in "300 Tang Poems" the famous Tang poetry collection.
That scene did remind me how we used to memorize and recite poems in elementary school. Teacher recites the first line, we answer the next."
Dance of the Drunken Mantis (1979) — December 12, 2017
A sequel to Drunken Master without Jackie Chan, but instead following the further adventures of Yuen Siu-tien's Beggar So, who returns home to find that his wife (Linda Lin Ying, who played Wong Fei-hung's aunt in the first film) has adopted a son (Yuen Shun-yi). The young man wants to learn drunken boxing, but So doesn't want to teach him. Eventually he hooks up with So's brother, a master of Sick Boxing (Yen Shi-kwan, who will go on to play Iron-Vest Yim in Once Upon a Time in China). Meanwhile, Rubber Legs, the master of Northern Style Drunken Boxing (Hwang Jang-lee), is hunting So down, as Beggar So is master of the Southern Style and must therefore be defeated (recall that Beggar So is part of the Ming revivalist resistance to Manchurian rule). Helping out is Rubber Legs's apprentice, played by Corey Yuen, no relation to the ruling Yuen clan but rather Jackie Chan's fellow Peking Opera student.
Liberally sprinkled with slapstick humor (the ubiquitous Dean Shek makes a slimy appearance), grueling training routines and ridiculously acrobatic stunt sequences, the fights are all built around the curving motions of Yuen Woo-ping's Drunken Boxing style, cameras set anywhere from flat on the ground to directly overhead, zooming-in or holding in three-quarters shot, whatever best showcases the athletic skills of the performers. The film isn't as grueling as Yuen's Jackie Chan films: he's more interested in broad laughs than Chan's masochism. This was Yuen Siu-tien's final film: he died before its release, and it was the first of several low-budget action comedies Yuen Woo-ping would make with his brothers over the next five years or so.
The Buddhist Fist (1980) — June 21, 2013
Maybe the biggest gap between quality of acting/storytelling and choreography/action I've ever seen. It's the Seven Brides for Seven Brothers of kung fu movies.
To what degree that is the result of the copy I saw being badly dubbed, I can't say. But the film is plagued by a half-baked mystery, wildly broad supporting performances, and leads that simply lack the star charisma to carry a plot like this. But the fight scenes are simply amazing. Yuen Woo-ping directs his brother Yuen Shun-yee and Tsui Siu-ming in some of the best hand-to-hand fight scenes in the genre (the finale is as good as it gets). Yuen's father Yuen Siu-tien (the Drunken Master himself) also appears and the stunts and choreography are credited to the whole Yuen family.
The screenplay was co-written by Wong Jing, perhaps the nuttiest of lowbrow Hong Kong directors. I'm just going to go ahead and blame him for everything wrong with the movie.
Dreadnaught (1981) — June 24, 2013
I want to spend a month or five just watching all the movies where Kwan Tak-hing played Wong Fei-hung. There's only like 80 of them dating back to the late 1940s. Should be pretty easy to find.
Weird seeing Yuen Biao, who played Wong's disciple Foon in the first Once Upon a Time in China film play a different Wong disciple here, right after seeing him play a third one in Magnificent Butcher. It's about time for Yuen to play Wong himself, isn't it?
Legend of a Fighter (1982) — May 13, 2014
Like The Buddhist Fist, a Yuen Woo-ping film more memorable for its elaborate fight choreography than anything particularly interesting in plot or style. Telling the story of Chen Zhen's teacher Hou Yuanjia (the character Jet Li plays in Ronny Yu's Fearless), we see him as a young man who isn't allowed to learn kung fu, but does it anyway thanks to a bespectacled tutor (Kurata Yasuaki, from both Fist of Legend and Legend of the Fist) who is secretly researching Chinese kung fu for the Japanese, or something. When Hou grows up, he turns into Beardy (sans beard) and is awesome. Then he beats up a Russian and some Japanese, all while being virtuous and stuff. Inevitably, he has a showdown with his former teacher.
The Miracle Fighters (1981) — July 8, 2013
This is what it would look like if Jean Cocteau had made a kung fu film.
Drunken Tai Chi (1984) — December 12, 2017
Yuen Woo-ping spent the better part of a decade trying to make Donnie Yen a star, beginning with this period non-specific kung fu comedy. Donnie plays a badass rich kid who drives a bully insane with fireworks (in self-defense of course), which leads the bully's father to hire an assassin to kill Donnie, his beloved brother, and their father. Donnie escapes and is taken in by a puppeteer and his wife, both of whom teach Donnie essential lessons about Tai Chi, such that he's able to defeat the assassin and the bully's father.
The film's darker elements don't mesh at all with the its essential goofiness, even by the loose standards of Hong Kong tonal coherence. Supporting actors like Lydia Shum, as the wife, and Yuen's brothers Yat-chor (as Donnie's brother), Cheung-yan (as the puppeteer), and Shun-yi (as the assassin) are all nicely developed, with the killer given a weird backstory as a mute single-father who loves building toys which makes his single-minded obsession with murdering Donnie and his family all the more confounding. But Donnie is the real showcase here, demonstrating his impressive set of muscles and athletic skill, and even getting a chance to breakdance in disguise as a puppet, looking ahead to Yuen's next stab at making him a star, the modern-day breakdancing comedy Mismatched Couples.
Tiger Cage (1988) — January 2, 2014
Yuen Woo-ping directing a hyperbolic modern cop-corruption movie, with a remarkable cast that includes Jacky Cheung, Do-Do Cheng, Ng Man-tat, Donnie Yen, and Simon Yam. It opens with a crazy chase, then settles down for a party. At this party, where the whole cop team playfully bonds, one of them announces he's retiring. Not only that, but he's also getting married. And he's just been told he has a heart condition and should avoid strenuous activity. He's thus thrice marked for death by the movie cliché gods. The team then seeks revenge for his murder, circumventing normal police procedure and "laws" both in pursuit of the crooks and because half of them are actually crooks anyway. The whole damn system's out of order.
Yuen's stunt team does a great job of making Jacky Cheung look like he can fight (imdb thinks Donnie doubled for him, which would make sense). It's great to see that Simon Yam, at this early stage in his career, is already fully Simon Yam.
In the Line of Duty 4 (1989) — December 20, 2013
So apparently this is Yes, Madam 4, after In the Line of Duty III was Yes, Madam 2. I don't know what happened to Yes, Madam 3, I think it was Magnificent Warriors (Royal Warriors being either In the Line of Duty or In the Line of Duty 2, depending on who you ask). Anyway, Cynthia Khan returns (as a different character), playing a Hong Kong cop working with a couple of Seattle cops to capture drug dealers. One of the cops is a very young Donnie Yen, who gets a great cocky introduction and plays a dick for the first half of the movie. The other is Michael Wong, apparently back from the dead after Royal Warriors, again being obnoxious guy, but this time it works better because he's the bad guy. The first section of the film is ostensibly shot in Seattle, but it's pretty obviously Vancouver. I guess it had to be Seattle because the plot of the film positions the CIA as the villains, selling drugs to fund their covert activities in Nicaragua, balancing the left/right conspiracy axis after the left-wing Red Army terrorists of In the Line of Duty III. Note that when the final villain gets it, he ends up draped in a giant American flag, albeit one that only has stars on one side.
The great Yuen Woo-ping directs, and as you'd expect the fight scenes are terrific. From a Yakima Canutt/Raiders of the Lost Ark homage with Khan on a truck, to a wild motorcycle chase with Donnie, to a brutal elevator fight between Khan and Blonde Kickboxer Woman to the climactic showdown between Donnie and Black Guy with Muscles. The film is thankfully shorn of 'girls can't be cops' police station scenes, though there is plenty of police brutality (especially from Donnie, who spends the first half of the film beating up Yuen Yat-chor (Woo-ping's brother and a choreographer himself), who would be his star witness if he'd stop menacing him long enough to listen).
Iron Monkey (1993) — January 20, 2016
"Politics is like a dream: don't take it too seriously and you'll be fine."
"A man should be as strong as steel. A man should shed blood, not tears."
Added June 20, 2019:
The first time I saw this the only way it was available to me was the butchered early 2000s Miramax version, but now I've got a lovely restoration on BluRay from Eureka so not everything in the world is getting worse.
Added June 28, 2019:⁠
Spinning off the success of Tsui Hark's Once Upon a Time in China series (on which Yuen worked as an action coordinator), in which Jet Li played real-life folk hero Wong Fei-Hung as he battled the forces of Western Imperialism and Eastern Superstition as a kind of avatar of Sun Yat-sen style rational nationalism, Iron Monkey serves as a prequel. We meet Wong as a child, played by thirteen-year-old wushu champion Angie Tsang, as he and his father, Wong Kei-ying, played by Donnie Yen, visit a town and become embroiled in what is essentially the plot of an old Zorro episode. A masked bandit named Iron Monkey is stealing from the corrupt ministers and gangsters who rule the town and distributing the loot to the poor and needy. The Wongs get caught up in the government crackdown (because Kei-ying can fight he's considered a potential Iron Monkey) while befriending the local doctor (Yu Rongguang), who is in fact the eponymous hero. Brisk and tightly plotted, with tons of great fights and just the right amount of humor and melodrama, Iron Monkey is Yuen's most accomplished film. It is the one where his cavalier disregard for coherence in acting and plotting is least felt, along with two other films he made right around the same time, 1993's The Tai Chi Master, with Jet Li, and 1994's Wing Chun, with Michelle Yeoh. Iron Monkey was eventually released in the early 2000s by Miramax, in an attempt to capitalize on the success of Crouching Tiger, Hidden Dragon (which Yuen had choreographed). But in doing so they edited it for tone and speed to fit more conventional American ideas of "realism," altered the subtitles to depoliticize it, and re-recorded the score to match the style of Tan Dun's Crouching Tiger music, in the process eliminating Iron Monkey's use of the iconic Wong Fei-hung theme, divorcing the film from its intended context as part of a larger heroic story.
Wing Chun (1994) — June 15, 2013
Feminism, kung fu style. A world where everyone, even the love of her life Donnie Yen, mistakes Michelle Yeoh for a man. Where her crafty businesswoman aunt, the delightfully named Abacus Fong, has to trick a man into sleeping with her (which works even though she apparently smells really bad, the result of a lifetime of eating only stinky tofu). Where Catherine Hung's Charmy, the lust object for an entire town and the local bandit gang, sighs about how as just a pretty woman she's useless without a man to care for her.
In order to defeat the bad guy and earn his respect, Yeoh must first dress like a woman, then take away his giant spear. As a result of her victory, he has to call her 'Mommy'.
Shaw Brothers icon Cheng Pei-pei plays Yeoh's master. She advises her that small, subtle movements can contain great power. This knowledge is essential for her to defeat the bandit leaders Flying Monkey and Flying Chimpanzee and their apelike notions of gender roles.