When Night Falls (Ying Liang, 2012)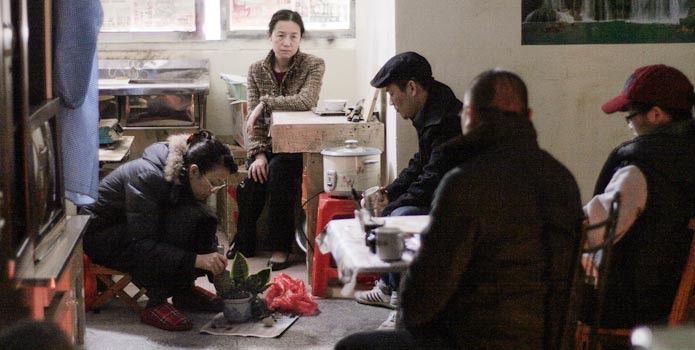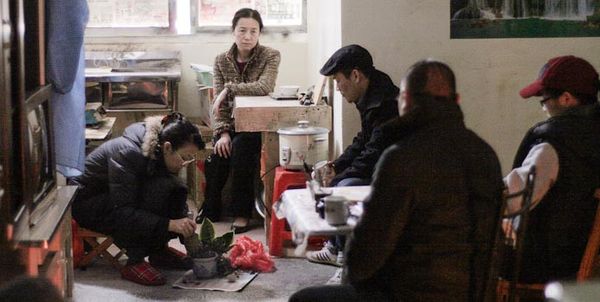 Ying Liang's When Night Falls begins as a documentary with a mother narrating what happened to her as she was detained after her son was accused of killing six police officers in Shanghai. She was held in a mental hospital under a false name for months and only released days before her son's execution. When she told a judge she had evidence to present, he told her to write it down and mail it in. At this point, the film, which had been a series of stills of press coverage of the murders as well as of the hospital the mother, Wang Jingmei, was held, becomes a fictionalized version of real events.
Nai An, a TV actress and independent film producer, plays Weng, a quiet, determined woman who keeps working to free her son despite the entire universe apparently conspiring against her (she gets locked out of her apartment, her shoe breaks, even the local photocopier stops working when she needs to use it). A group of activists and lawyers come to her defense, but they're as powerless in the face of the railroading bureaucracy as she is. Famous artist Ai Weiwei blogs about her son's case, she's assured that many "netizens" support her, but it does no good. Still, she goes on, trying to get the local tailor to replace the zippers on her son's clothes with buttons so he can wear them in prison (like the government, the old tailor acknowledges her but doesn't hear or understand what she's saying). The film's slow pace and specificity of location (she repeats the name of her son's prison like a mantra) drives home the horrible reality of the dramatized events: this place is real, this is happening, this happens.
The film is politically important to be sure, and its creation has gotten Ying banned from his homeland (it was made with funding from the Korean Jeonju Film Festival). But what's most compelling about it is this mother's story, her struggle in the face of the PRC's Kafkaesque justice system and the heartbreaking tragedy of her loss. I saw Ying's Good Cats at VIFF back in 2008. I enjoyed its slow weirdness, a gangster story with a metal band Greek chorus, but I was thoroughly unprepared for this great a film.