The World of the Drunken Master (Joseph Kuo, 1979)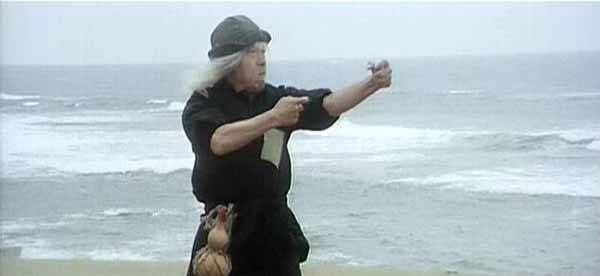 Solid bit of Yuen-sploitation from Joseph Kuo, a prequel that dares to answer the question nobody anywhere ever asked: why does Beggar So, the Drunken Master, drink so much? Yuen kids Yat-chor and Cheung-yan handle the choreography, while patriarch Yuen Siu-tien appears very briefly in the opening moments, performing on an overcast beach (he died some ten months before the movie was released). Two other actors play his signature role (played by him most famously in Drunken Master, the Jackie Chan smash hit made the previous year that was directed by another scion of the Yuen Clan, Woo-ping), through the rest of the film, Yu Sung-chao as the old man, Li Yi-min as the young one. Stalwart Kuo star Jack Long plays So's drunken buddy Fan Ta-pei (in both old and young versions). An enigmatic prelude leads to a long central flashback in which rapscallions So and Fan are taught drunken boxing by a watchman at a wine factory. They run afoul of local extortionists and many people are killed, much to the boys' everlasting sorrow. As I've come to expect with Kuo, this world of cyclical violence and revenge is devastating: it's both the source of the heroes' 30 year drinking binge and it inevitably comes back to haunt them in the present, as long dead scores must be settled (if for no other reason than to squeeze in another gorgeously performed acrobatic fight scene).
The Yuens' opera-infused aesthetic and vaudevillian performing style is an uneasy match for Kuo's melancholy. The slapstick hijinks of the early sections of the film aren't particularly funny, though Long and Li perform the stunts well. They just don't have the comic charm of the elder Yuen, let alone a Jackie Chan (or Chan's classmates Yuen Biao and Sammo Hung, for that matter). The Yuens will come into their own shortly, uniting with Woo-ping and the rest of their brothers for a series of low budget yet remarkable action films, culminating in the family's masterpiece The Miracle Fighters in 1982. As capitalizing on a beloved and deceased figure's image goes, The World of the Drunken Master isn't as egregious as something like Game of Death (not to mention the plethora of scuzzy Bruce-sploitation films I haven't been able to stomach diving into yet). One could read it as an affectionate tribute to a father by his sons. A star so important, so skilled, they needed two actors to replace him.