The Wild Goose Lake (Diao Yinan, 2019)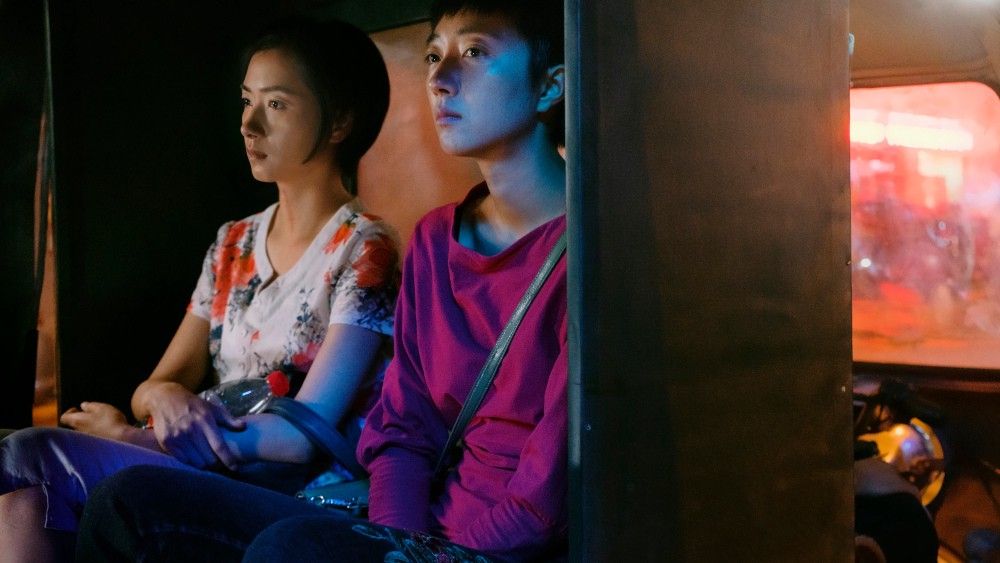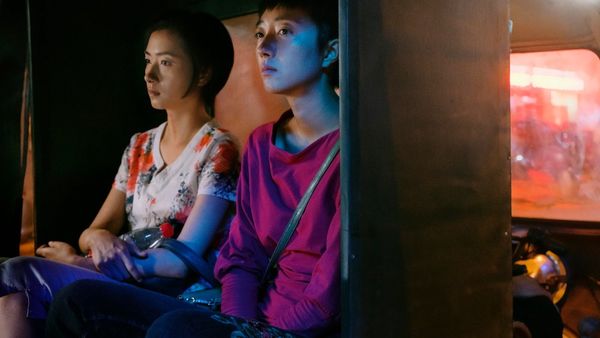 One of the most anticipated Chinese titles of this year's Vancouver International Film Festival is Diao Yinan's follow-up to his Berlin winning 2014 film Black Coal, Thin Ice. Like that film, The Wild Goose Lake is a moody Chinese noir, full of morose characters trapped in a world of violence they cannot understand. It's also significantly more interesting to look at than the majority of Chinese noirs that have afflicted the festival circuit in the wake of Black Coal's triumph. Sure, it has more than its share of torrential downpours and black nights of the soul, but Diao mixes the gloomy setting with yellows, greens, and reds (along with some delightfully sickly neon pinks) more reminiscent of Bi Gan's Long Day's Journey Into Night and the first third of Jia Zhangke's Ash is Purest White than the dull grayness of movies like The Looming Storm or Savage or Lush Reeds. Unfortunately, the same cannot be said for his characters, who are nowhere near as vibrant as the film's images.
Hu Ge, who had a small role in Iwai Shunji's Last Letter, stars as an ex-con and gangster who finds himself the target of a manhunt after he accidentally shoots a cop. The setup to this is extremely promising, with Diao melding the highbrow style of Bi and Jia with a classic Triad-type story, involving gang rivalries and a motorcycle-stealing contest that ends in a shocking bit of violence. But it quickly shifts into a different kind of film entirely, with Liao Fan as the cop in charge of hunting Hu down and Gwei Lun-mei as the prostitute with a heart of gold who tries to help him escape (both Gwei and Liao starred as well in Black Coal).
Liao and the cops come off much better, as the emptiness of their personalities matches the just-the-facts proceduralism of their pursuit, Liao himself brings a necessary weight and professional authority to the role. But Gwei and Hu are blank slates, almost entirely affectless, with nary a hint of personality to mitigate their mopey sadness. Gwei is usually an actress of considerable charm, but there's nary a hint here of the performer who stole scenes left and right in Tsui Hark's Seven Swords and Flying Swords of Dragon Gate a decade ago. Instead she walks determinedly, if directionless, around the frame, face pinched in a perpetual scowl, while Hu (hobbled as his character is by multiple gunshot wounds) merely looks depressed. The motivations and actions mostly make sense, but it's hard to care anything about them when they aren't the least bit interesting. Compare them to the wit and will Zhao Tao showed in Ash, or Liao Fan's weaselly over-confidence in that same film, or the mystery and passion of Tang Wei and Sylvia Chang in Long Day's Journey, and you'll see what Wild Goose Lake is missing.
But for all that, at moments the film is wonderful. There are at least three expert showdowns, built slowly and without dialogue, actors carefully arranging themselves in a well-defined space, communicating only with looks (or just as much: by not looking at all). Diao heightens one by having one group wearing shoes that have neon lights around their soles, such that our hero (such as he is) is seemingly hunted by circles of eerie pale green light, stark against the blackness of night. Another is set in a dilapidated concrete apartment complex, reminiscent of so many such structures in Hong Kong films, with their tangled hallways and noisy neighbors. In scenes like this, The Wild Goose Lake approaches the best of Johnnie To (the showdowns are nothing if not a nod to The Mission). If only the rest of the movie were so free.