The Heroic Trio (Johnnie To, 1993)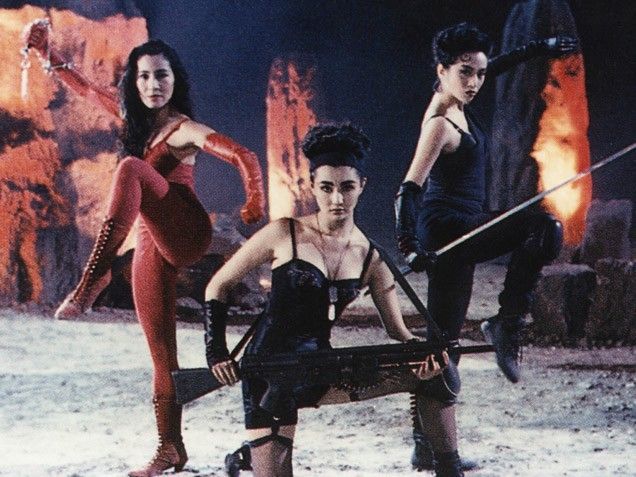 Before becoming a renowned auteur, a favorite of critics and film festivals the world over, Johnnie To was known primarily in the West for the two films he made in 1993 in collaboration with director and action choreographer Ching Siu-tung. The Heroic Trio and Executioners star Michelle Yeoh, Maggie Cheung, and Anita Mui as superheroes in a pre- and then post-apocalyptic Hong Kong, a wuxia Charlie's Angels. Though he'd had a run of local hits, none of his films managed to find much interest outside of Hong Kong, and his reputation, locally as well as abroad, was one of a competent professional filmmaker, subservient to the authorial personalities of his stars (Chow Yun-fat and Stephen Chow, in particular) and producers (the gang at the Cinema City studio, where he worked alongside more acclaimed peers such as Tsui Hark and Ringo Lam). But the prospect of beautiful women in sexy costumes flying around, doing weird shit and beating the hell out of people was enough to get the Heroic Trio films a home video release in the US, where more than 20 years later they remain among the most available of all of To's films, standard content for streaming services. It was the first Johnnie To film I ever saw, on the old English-dubbed VHS I rented from Scarecrow Video a long, long time ago.
Anita Mui plays the mild-mannered wife of a Hong Kong cop. By night, she fights crime in an old school cape-and-mask disguise. She takes the case of a mysterious baby-napping ring, joined (eventually) in the hunt by Maggie Cheung, playing a leather-clad biker/bounty hunter. The babies are being stolen by Michelle Yeoh, an Invisible Woman working unwillingly for an Evil Master, who hopes to restore the Chinese monarchy from his smokey, literally underworld, lair. Combining the goofiest excesses of wuxia (insane practical effects and wire-stunts, wildly melodramatic lighting and music, vertiginous camera movement spiked with hyperactive editing) with the contemporary crime genre, the film is an amalgam of the excesses of early 90s Hong Kong cinema filtered through an unusually feminine perspective. Surrounded by ineffectual and/or evil men (don't miss future To stalwart Anthony Wong as the deformed, mad henchman), it's only the women who can actually accomplish anything in this world. Nonetheless their roles are reduced to subservience (Mui to her husband, Yeoh to her evil father-figure) or androgynous villainy (Cheung's bad girl). And despite all their superpowers, their heroic role is literally domestic as babies remain the object of their quest(s).
Mui was the biggest star at the time, though she's the least well-known in the West. A pop superstar, she'd also starred in a number of classic films, playing a sad ghost in Stanley Kwan's Rouge, the woman who taught Chow Yun-fat how to shoot in Tsui Hark's A Better Tomorrow III: Love and Death in Saigon, and Jackie Chan's step-mother in Lau Kar-leung's Drunken Master II (released in 1994, this is probably the role she's best known for over here). Cheung had made a name for herself as a serious actress with Kwan's Centre Stage, Ann Hui's Song of the Exile, and a series of Wong Kar-wai films (As Tears Go By, Days of Being Wild) after starting her career as the cute girlfriend in mid-80s Jackie Chan vehicles, part of the fun of The Heroic Trio is seeing her playing wildly against her demure, wholesome type. Yeoh had been a big star in the mid-80s with a series of pioneering Girls with Guns movies like Corey Yuen's Yes, Madam! and David Chung's Royal Warriors, but prematurely retired in 1987 after marrying the improbably named magnate/producer Dickson Poon. She returned to acting after they divorced in 1992, first upstaging Jackie Chan in Police Story 3: Supercop, followed by her work here in the Heroic Trio films (possibly interesting: her last film before her retirement was Easy Money, one of the very first films written by future Johnnie To collaborator Wai Ka-fai).
To and Ching Siu-tung worked closely together on The Heroic Trio, and share the director credit on the sequel. Working consciously to create comic book style, Ching handled the action and production design while To took charge of the script and shot all the non-action scenes. This kind of division of labor was not unusual at the time, for example in the Jackie Chan film Twin Dragons from 1992, in which Tsui Hark directed the dialogue and effects scenes while Ringo Lam supervised the action. Such collaboration may lead to effective entertainment, and The Heroic Trio is nothing if not fun, the most fun movie about baby-stealing ever made in fact, but it tends toward incoherence as you have multiple auteurs putting their personal, often contradictory, stamps on a single project. Which is why it's so weird that The Heroic Trio remains so many people's first Johnnie To film. Of all his major films, with the exception of The Eighth Happiness, it's the least personal. To directed and/or produced a remarkable five films in 1993, but after a disastrous falling out with Stephen Chow during the making of The Mad Monk, he took a year off from film in 1994 (highly unusual for the workaholic To: 1994 is one of only two years since he returned to film from television in 1986 in which he has no directing or producing credits (2010 is the other year)). When he came back in 1995, he was like another director entirely. That year's Loving You marks the start of To's career as an auteur, founding his own studio and taking complete control of his projects, a series of crime dramas and romantic comedies that have established him as one of contemporary cinema's most reliably impressive filmmakers.