The Contract (Michael Hui, 1978)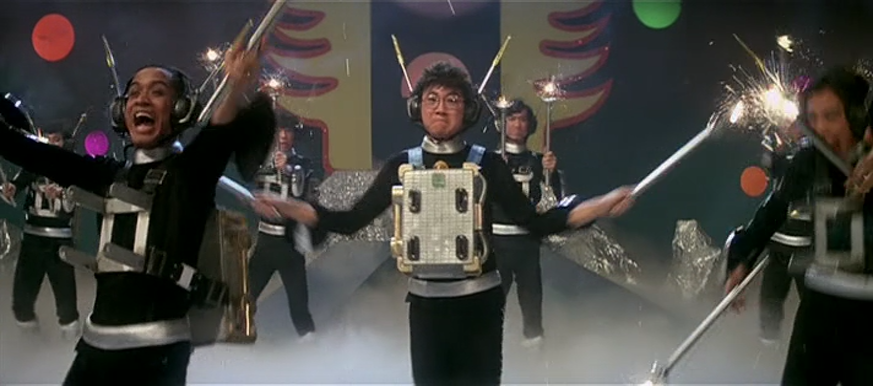 I guess the BBC asked a bunch of people for their top ten comedy lists. They didn't ask me, but as I'm completely incapable of resisting the siren call of list-making, I made one anyway and put this film in at the bottom, ahead of favorites like Trouble in Paradise, Annie Hall, The Princess Bride, The Awful Truth, City Lights, The Philadelphia Story, Wheels on Meals, Kung Fu Hustle, Ishtar, most of which I eliminated for generic purity reasons (romantic comedy vs comedy), and Airplane!, which I forgot and therefore invalidates the whole list. I wanted to include a Michael Hui movie purely for propagandistic reasons: he simply isn't as well known in the West as he should be, and this is, I think, his best film.
For about a decade from the mid-70s to the mid-80s, Michael Hui almost single-handedly resurrected Cantonese cinema as it was about to be swamped by the Shaw Brothers' Mandarin language productions, while at the same time adapting the vaudevillian traditions of American comedy to modern Hong Kong, paving the way on the one hand for the Hong Kong New Wave, Jackie Chan, Sammo Hung, and Yuen Woo-ping and on the other for Stephen Chow and Wong Jing.
Michael stars with his brothers Ricky and Sam (himself a major Cantonese pop star). He works at a TV studio ("MTV"—the M is for "mouse"), trying to find a breakthrough role that will make him a star, but his clumsiness and general idiocy tend to make a mess of things whenever he gets to perform (as a background dancer, as an archery target). When a rival studio ("TVC"—the C is for "cat") offers him a job as a game show host, he finds that he's signed an awful eight-year contract with MTV which he then attempts to steal, eliciting Ricky's help to crack the safe where it's stored. The last half of the film is mostly an extended chase sequence, as Michael flees from the Bond-villain-esque henchmen of the studio head while also trying to free Ricky from inside the safe (it's complicated). Sam gets involved as a magician aspiring to a TV contract whose assistant/sister is in love with Ricky and who is being tormented by an already-established TV magician.
The film is essentially a series of set-piece gags inspired by the classics: Harold Lloyd climbing a building, Charlie Chaplin trapped in an out-of-control machine, Buster Keaton having a wall fall on him, alongside Network-level satire on the nature of corporate television, biting, absurd, and completely unpretentious. Before moving into films, Michael had worked on TV as both a game show host and the Hui Brothers' extremely successful sketch comedy/variety show (imagine a Cantonese Laugh-In), and there's a pure love of performance that leavens the film's harder edges (the Let's Make a Deal-inspired game show Michael hosts is Verhoevean in its cruelty, but Michael's joy in finally being on center stage is irresistible nonetheless). His other films (Games Gamblers Play, The Private Eyes, Security Unlimited) are more anarchic, more misanthropic (while the later Chicken and Duck Talk is much more conventional, with a warm mainstream heart), but The Contract captures best that lunatic balance the performer must maintain: the desperate desire to please an audience for whom they have utter contempt.