Sword Master (Derek Yee, 2016)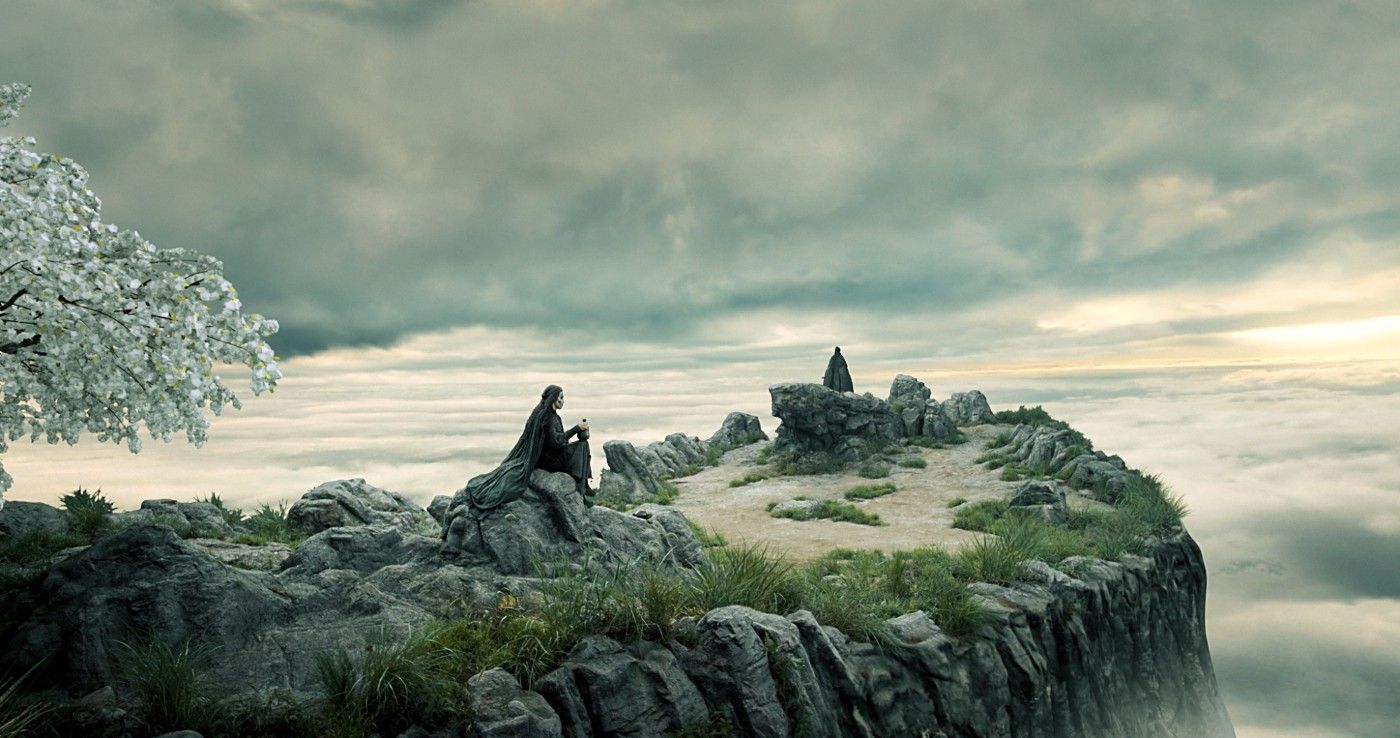 In 1977, at the age of twenty and appearing in only his third film, Derek Yee got the starring role in Death Duel, a film by prolific Shaw Brothers director Chor Yuen. After helping spark a revitalization of Cantonese language cinema with his hit ensemble comedy The House of 72 Tenants in 1973, Chor had settled into his own little corner of the Shaw Brothers universe, making a series of lavishly ornate studio-bound wuxias, usually adaptations of novels by popular author Gu Long. The stories are intricate fantasy tales of swordsmen who travel the jianghu, the chivalric world that runs alongside but separate from the everyday reality of the Chinese peasantry, a world with its own hierarchical structures (usually based on swordsmanship) and complex rivalries and feuds. Unlike the Shaolin films that Shaws directors Chang Cheh and Lau Kau-leung were making around the same time, Chor's movies are relentlessly ahistorical, existing entirely in a world of their own making (even the geography is fictional). The fight scenes are acrobatic and wire-aided and make occasional use of magic but more usually bizarre weaponry and poisons are featured. Chor fills his brightly colored sets with beautiful decorations, gorgeously landscaped backdrops and ornamentations that block and frame our view of the scene: it's the closest Shaw Brothers ever came to replicating Josef von Sternberg's aesthetic. After the success of Death Duel, Derek Yee went on to star in several more Chor Yuen films over the next decade, the final days of the Shaws' studio, joining Alexander Fu Sheng and Ti Lung as Chor's primary stars in films like Heroes Shed No Tears, the Sentimental Swordsman movies, and Heaven Sword and Dragon Sabre Parts I & II. But with Shaws in decline, wuxia work dried up and Hong Kong action cinema went in new directions: Fu Sheng died tragically young, and Ti Lung found himself overshadowed by his younger costar in A Better Tomorrow, Chow Yun-fat. Derek Yee turned to screenwriting and directing.
Never as prolific as many of his Hong Kong contemporaries, Yee has nonetheless had a productive and somewhat acclaimed career as a director. He won the Hong Kong Film Award for Best Director for C'est la via, mon cheri in 1993 and One Night in Mongkok in 2004, and has been nominated for that award five other times. His 1996 film Viva Erotica, with Shu Qi and Leslie Cheung, is one of the very best films I've seen in 2016. Cheung plays a young director with artistic aspirations who can only find work making a cheap softcore porn movie. Shu Qi plays his star, a woman who comes to learn that she in fact has more to offer to art than her physical assets. Lau Ching-wan has a brief cameo as a successful director named "Derek Yee" who chats with Cheung and then runs and jumps off a pier, killing himself. It's the kind of weird, beautiful, romantic paean to art that one rarely finds among the work of martial arts actor/directors. Yee has made a handful of action movies over the years, along with comedies and romances, but now, with Sword Master, he's made his first period martial arts film. He's gone all the way back to his beginning, remaking Death Duel in the style of 21st century digital wuxia.
The story is about two swordsmen who have grown disillusioned with the cutthroat world of the jianghu, where all anyone cares about is celebrity and power. One, Yen Shi-san, cloaked in black with his face tattooed to look like a diseased skull, learns that he's dying and retreats to a cemetery, where he works as a gravedigger. The other, the Third Master of Sword Manor, abandons his clan's estate and finds work as an errand boy in a brothel, where he is known as Useless Chi. After defending a young prostitute (allowing himself to be stabbed multiple times by a pair of irate customers without flinching), he flees the brothel, knowing his identity will soon be discovered. He takes up with a friendly young man in a nearby village, who just happens to be the brother of the prostitute he saved and also happens to be located near to Yen's cemetery. Eventually, all the forces of the jianghu descend on Chi and Yen and the village, led by the woman Chi was supposed to marry, the daughter of another powerful clan, along with a mysterious group of warriors in skull masks armed with nasty poisoned weapons. Everyone fights everyone while Yen resolves to defend the weak and Chi attempts to defend his new family from the psychotic woman who loves him without actually doing any fighting himself. It ends in a battle, followed by the inevitable duel between the two heroes.
In tone, the film is faithful to Chor Yuen's works: while lacking the distinctive over-cluttered visual style, it faithfully reproduces his bright colors and fanciful locations (the setting for the final duel, a fog-enshrouded mountain-top crowned by an ancient, white-blossomed tree, is pure Chor). But Yee and his co-writer and co-producer Tsui Hark have slightly shifted the emphasis of the original film, amplifying the emotions and the romances while cutting down on the characters and miscellaneous swordsmen who appear only to be eliminated after an action sequence or two. The result is less a reflection of a world where everyone is driven by ambition, the desire to be known as the best, to rise to the top of the jianghu, where the only way a swordsman's life can have value is by being known as a great swordsman, than it is a soap-operatic entanglement of intersecting love triangles. Chor's films reflect the decadence of Hong Kong in the 1970s and 1980s, a laissez-faire world disconnected from the Mainland and from history, a ruthless capitalist paradise. The new film is from a different world entirely, and its characters are driven not by ambition but by thwarted desire. Everyone in the film loves someone who doesn't love them back: the heroes manage to make peace with this, the villains are twisted into evil. But along the way, we're treated with many a lush romantic interlude, including several momentum-killing flashbacks to the lifelong romance between Chi and his murderous girlfriend.
For the fight sequences, Yee adopts the digitally-enhanced techniques of contemporary wuxia, with lots of slow-motion and computerized movement. It lacks weight and none of the performances or scenes are particularly exceptional, though neither are they ever bad. The fights are fluid and faithfully recreate the fantastical style of the Shaws movies, eschewing the rapid cuts of Tsui and Ching Siu-tung's wire-fus of the late 80s and early 90s. The choreography is by Yuen Bun, who's most famous for his work with Johnnie To, and while it lacks the virtuosity of the fights in this summer's Call of Heroes (with Eddie Peng and Wu Jing, choreographed by Sammo Hung), it's a step above the action in Yuen Woo-ping's Crouching Tiger, Hidden Dragon: Sword of Destiny. That film provides the best point of comparison, as an adaptation of wuxia literature harkening back to the 1970s, but reformulating the characters and motivations for an audience trained to accept personal melodrama as the only motivation for action heroics (see also: every Marvel movie). The Crouching Tiger sequel though gets the balance all wrong: the characters don't make much sense and the action is too disconnected, even when it's quite good (and Donnie Yen and Michelle Yeoh are certainly more charismatic and accomplished performers than the competent stars of Yee's film: Lin Gengxin and Peter Ho). The Sword Master is the best version of what Sword of Destiny tried to be, a pulpy wuxia romantic melodrama. A throwback and a tribute to one of Hong Kong's most distinctive filmmakers.