Project A 2 (Jackie Chan, 1987)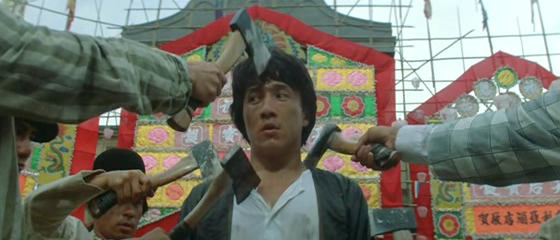 The sequel is even more Chan-focused than the first Project A was, as the other Little Fortunes are absent (they were off in the jungle making Eastern Condors) and Jackie is joined by a trio of women played by Maggie Cheung, Carina Lau, and Rosamund Kwan, in an apparent nod to Tsui Hark's Peking Opera Blues and its trio of Brigitte Lin, Sally Yeh, and Cherie Chung. The sequel picks up right at the end of the first one, with surviving members of the pirate gang vowing revenge on Chan. They end up poor and desperate in Hong Kong where they join the various factions trying to kill our hero. These include a corrupt cop with a penchant for inflating his reputation with fake arrests and a gambling den magnate/gang leader. The women are part of Sun Yat-sen's revolutionary group, and they try to get Chan to join up as well. As always, Chan refuses to take a political stand — rather than supporting one government or another he sticks to a personal ideology of honesty and righteousness. He's against corruption, aids the sick and helpless, and protects the innocent. There's nothing wrong with any of those things, of course, but one can't help notice that this political vagueness also makes his films palatable for the widest possible audience, whereas more committed films like Tsui's, in which the female revolutionaries are the heroes and prime movers of the plot, make an unmistakable political argument threatening to the powers that be.
Chan's political vagueness aside, I think this is actually even better than the first film. It expands and perfects his desire to pay homage to old Hollywood classics, with an extended sequence in Cheung's apartment that recalls A Night at the Opera (as well as a similar, but smaller-scale, sequence in Tsui's Shanghai Blues) and the finale ups the Harold Lloyd sequence from the first film by recreating Buster Keaton's famous Steamboat Bill, Jr. falling house stunt. The best sequence though is an extended chase with Chan and his rival cop handcuffed together and attacked by the axe-throwing pirate gang that starts in a restaurant and extends across the streets of the city. This is the pinnacle of Chan's slapstick kung fu style, avoiding the brutal masochism of Police Story, in which the light-hearted comic hero Jackie gradually comes undone at the abuse his body takes at the hands and feet of the villains and his own choreographic imagination. The conclusion of that film is violent and cruel, as the hero resorts to a pure expression of murderous rage against his (captured and defenseless) enemy, part of a series of Hong Kong films in the 80s that seem to justify police vigilantism and brutality, also a popular trope in American cop films of the same era.
As Chan's career went on, the cartoon of the Project A films became his default persona while the Police Story darkness, a natural outgrowth of the masochism of his early films, dissipated. But aside from a spark here and there, the films were rarely so good, becoming increasingly content to rest on audacity rather than ingenuity for his stunt sequences and awkward mugging for his comedy. And as his physical skills have declined with age, the hollowness of his work has become ever more apparent. Unlike Tsui Hark, or Lau Kar-leung, he's been unable to extend his directorial career into old age with any kind of success. He never really had anything to say anyway.