Operation Mekong (Dante Lam, 2016)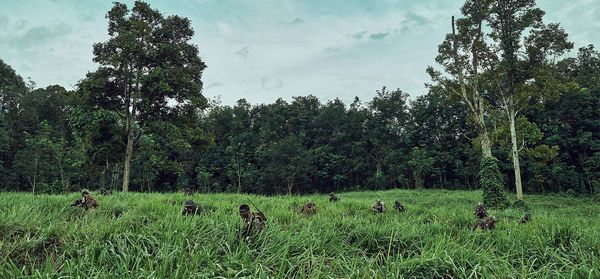 Opening this week is the latest action film from director Dante Lam, whose Beast Cops and Jianghu: The Triad Zone were two of the better Hong Kong films to come out during the industry trough that followed the colony's handover to China in the late 1990s. More recently, his MMA film Unbeatable earned a handful of acting prizes for its star, Nick Cheung, back in 2013. Operation Mekong is a procedural programmer based on true events, starring Eddie Peng (Rise of the Legend) and Zhang Hanyu (The Taking of Tiger Mountain, Mr. Six). Thirteen Chinese citizens are killed on the Mekong River, in the notorious no-man's land known as the Golden Triangle, the intersection of Burma, Thailand, and Laos that has long been the headquarters for the drug trade and action movies using the drug trade as a plot motivation (see, for example, John Woo's Heroes Shed No Tears from way back in 1986, or Jackie Chan's Police Story 3: Supercop). It's meth now, rather than heroin, but the more things change, the more they're exactly the same. Suspecting drug lord involvement, the Chinese government convinces the other three nations to cooperate and sends in an elite squad of heavily-armed cops to expose, capture, and if necessary kill, the bad guys. Zhang heads the squad, all of whom are given code names from Greek mythology, except for their remarkable German Shepherd, who is named "Bingo". Peng serves as their local contact, an intelligence officer who has been working the area with an impressive array of fake mustaches for five years.
What follows are all the familiar beats of a high-explosive action film. Strong extended set-pieces packed with carnage, leavened with stretches of exposition and character-building. There's a scene where every member of the team introduces themselves around a communal meal, a scene where one muses about his daughter back home, another one where a cop has a tragic backstory re-lived in flashbacks which will come back to haunt him at a narratively-convenient time. The remarkable thing about Johnnie To's Drug War is that he didn't bother with any of this stuff, trusting the tightness of his plot and sequence construction to carry the audience through the running time of the film. Lam and his team of screenwriters though settle for the typical, thus no matter how good the actors and the action are, and they're pretty good for the most part, the movie is ultimately is just treading water, doing everything we've seen before, just a bit louder, and with more drone-mounted cameras. As an homage and update to the heyday of Cannon Films-era actioners, it doesn't get much slicker.