Nomad (Patrick Tam, 1982)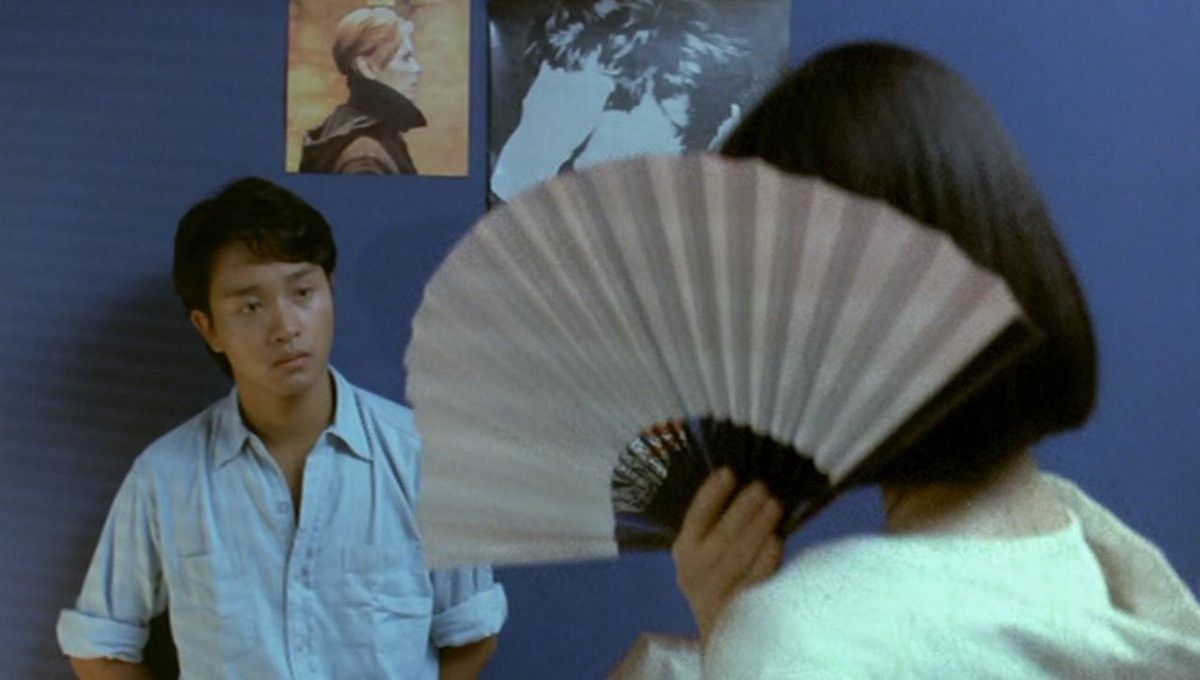 This Patrick Tam film defies easy genre labeling. For much of its run, its feels like a slice of life teenage film, not unlike American Graffiti or Dazed and Confused or Metropolitan, but more in the style of later Taiwanese directors like Edward Yang or Hou Hsiao-hsien (though without their rigorously distanced visual style). It follows the romantic lives of four young Hong Kongers: Louis (Leslie Cheung) and his friend (cousin?) Kathy (Pat Ha) are rich and Tomato (Cecilia Yip) and Pong (Ken Tong) are poor, but after some very funny meet cutes (Pong and Kathy at a pool, Pong and Louis fighting outside a record store (they all love David Bowie), Louis watching Tomato juggle boyfriends over a pair of telephones) they all become friends and lovers. The first hour or so of the film follows their budding romances and friendships, pitted against the peculiar environments of the city (an empty double-decker bus provides a better make-out space than a tiny apartment cramped with relatives and mahjong tables).
Hints are given of the political context of the time, first in the haunting recordings Louis listens to of his mother, a classical music DJ, saying farewell to her family on air, presumably just before she's carried off by the Cultural Revolution, and later in the character of Shinsuke, an old boyfriend of Kathy's who shows up having deserted from the Japanese Red Army, a communist terrorist group (to put it simply) that is now hunting him. The film's deeply unsettling conclusion arrives as a clash between these two worlds. The kids' romantic getaway, lushly and stylishly photographed, self-consciously arty in contrast to the more immediate realistic style of the earlier sections of the film, is interrupted by a spasm of violence, both ultra-modern and ancient in its form and politics. Youth a romantic dream shattered by ugly reality.
It's easy to see the influence this must have had on Wong Kar-wai, the early sections evoking the mood and style of the romantic interludes of As Tears Go By and Days of Being Wild (which shares a star, Leslie Cheung, already as sad as he is lovely) while the disruptions of violence prefigure the war between genre conventions and art romance that dominate Wong's early films. Like Days, the past in Nomad is largely an unspoken thing, a gap in history that undergirds the seeming aimlessness of its characters. I can't wait to see where Tam went from here, though he doesn't seem to have a prolific career, he did work as an editor on Days of Being Wild, Ashes of Time, and Johnnie To's Election.