Nobody's Daughter Haewon (Hong Sangsoo, 2013)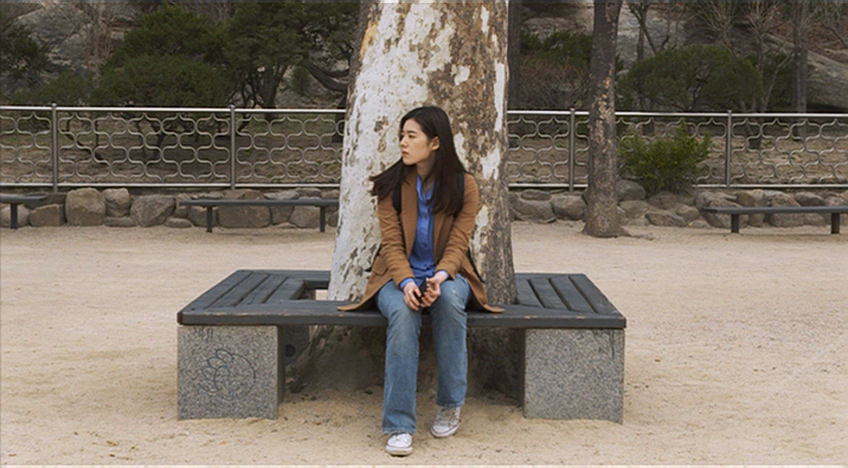 Continuing a recent trend, one that denotes a sharp break with his pre-2008 work, Nobody's Daughter Haewon focuses on a female protagonist, though one who isn't any more heroic than Hong's usual cast of drunken, lecherous filmmaker/professors. Haewon is a pretty girl who is constantly told how pretty she is and seems to have become dependent on that flattery, no matter how poisonous it ultimately becomes to herself and the people around her. In each of the film's sections, she conjures a man that adores her, and the film's mysterious final line ("Waking up, I realized he was the nice old man from before") recalls the profound final rumination from Oki's Movie ("Things repeat themselves with differences I can't understand") a line that has come to epitomize so much of Hong's work for me. One of the great pleasures of diving into the Hong universe is that each movie gains in relation to the others. No other director I know of more obsessively explores the same basic elements in film after film: a film director/student/professor who has an affair he shouldn't have (with a friend's wife/girlfriend, with a student, or both) while wandering cold, unglamorous Korean cities and/or vacation spots; studies of venal, hypocritical drunks that critique without judgement, the foibles of Hong's people being ours and his rather than cruelly displayed objects for scorn, scolding, and ridicule. With these basic characters and settings, and his deadpan minimalist visual style (marked most distinctively by the utterly atypical use of zooms), Hong conjures seemingly endless variations.
Haewon finds its closest companion in Oki's Movie, which focuses on a student who had an affair with her professor and takes a couple of hikes up a mountain. Haewon's affair occurred at some point in the past, though she considers rekindling it. She also takes two trips up a mountain, the location of an old fort-turned-tourist spot. Like In Another Country, Haewon features a lackadaisical to the point of abstraction framing device: three days that begin with Haewon describing them in her journal (public table, cup of coffee, handwriting in a notebook, voiceover narration) where the earlier film had the narrator writing three versions of a film she wanted to make about a French woman on vacation in Korea. On each day, the narrative is abruptly interrupted as Haewon wakes from a dream, erasing and resetting the story as we'd known it (this also happens in the middle section of In Another Country, as well as in Night and Day). With these films, along with the quadruple short film structure of Oki's Movie, the endless repetitions of The Day He Arrives, the self-delusions of Hong's heroes have taken a metaphysical turn: not only are they not honest with themselves and each other in their romantic lives, but the very nature of their world has become unstable, liable to be rearranged or erased with the stroke of a pen or a sharp cut in the film. Where the earlier films (and also Hahaha) were built around coincidence and repetition, the later films have become Duck Amuck with horny, drunken film school denizens.
I find myself pondering the title as much as anything else. Hong usually favors straightforward titles, ones whose meaning is immediately apparent (at least lately, his early titles are beguiling in their lingering prose: The Day a Pig Fell Into the Well, On the Occasion of Remembering the Turning Gate, Woman is the Future of Man, Virgin Stripped Bare By Her Bachelors). The first section explains quite clearly that Haewon is somebody's daughter, as it involves her spending a day with her mother on the eve of the latter's move to Canada. The film itself begins with Haewon meeting Jane Birkin (unnamed in the film) and telling her how much she admires her daughter (actress Charlotte Gainsbourg, also unnamed). The title then has, at least, two possible meanings: given the relative fame of Birkin, Haewon's mother is a "nobody" and perhaps this is what is keeping Haewon from becoming the successful actress she wants to be (she says she'd give her soul to have Gainsbourg's career). Or, being sad and abandoned by her mother's move, Haewon is forced to become an adult: she is no longer simply somebody's daughter and must take care of herself, become an individual in her own right. She then spends the next two thirds of the film pursuing relationships with a couple of older men (both professors and therefore father-type figures) while brushing off men her own age in some kind of Freudian irony. Parent-child relationships have largely been absent in Hong's work thus far (most of the kids have been little and mostly off-screen, as the director's child is in Haewon), though a mother-daughter conversation does open In Another Country. Perhaps these are the first steps in the integration of another trope into the Hong universe, another fraught relationship to bend the rules of time and narrative around. (Note: It wasn't. None of Hong's post-Haewon films involved children or parent-child relationships in any meaningful way until Hotel by the River and Introduction in 2018 and 2021.)