Legend of the Demon Cat (Chen Kaige, 2019)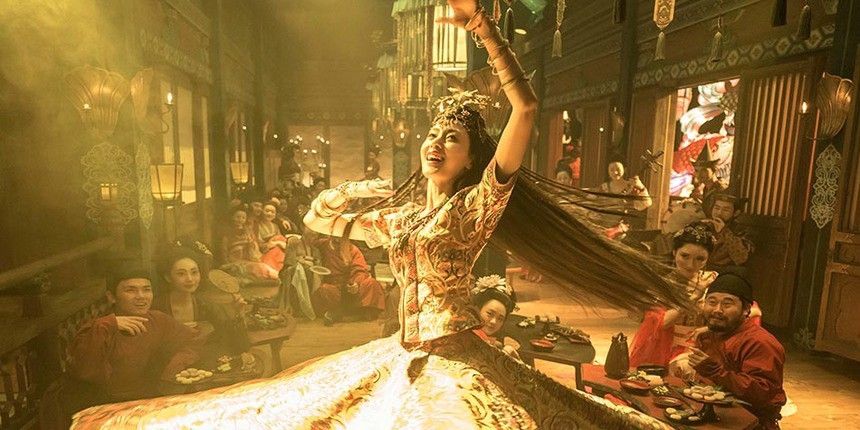 Chen Kaige's Legend of the Demon Cat is not what you'd expect it to be. Well, at least not after the first 20 minutes or so, wherein the eponymous feline wreaks havoc on the lives of Tang Dynasty courtiers, promising buried treasure in exchange for fish eyes and then turning to murder. That type of Strange Tales of a Chinese Studio offbeat horror-comedy kind of thing (the cat talks, oh boy is this a talking cat movie). But after the set-up, the horror dissipates and for long stretches of time, the talking cat is absent. And what we get instead is a moving melodrama based on some real history about the fall of the Tang Dynasty, famously beautiful concubine Yang Kwei-fei, and master of drunken poetry Li Po, plus or minus some eunuchs and a magician or three. Our heroes in exploring this mystery are a Japanese Buddhist monk and an unemployed Imperial Scribe/would-be poet, and they live in a world as lushly gorgeous as anything Chinese CGI has yet been able to muster.
The two tones, that of a deeply romantic melodrama and a talking cat picture, should be, by all conventional rules of movie-making, incompatible. And judging by the film's reaction in the 14 months since it was originally released back in December 2017, the combination does not work for most (it's hard to know where to laugh, I suppose), though it should be noted that it did seem to be greeted positively when it played in Toronto last fall, in a supposed Director's Cut (I have been unable to find out any details on what did and did not change since the film's initial release). But I'm weird and I loved it. Because I'm perversely fond of history, I loved how the whole long middle section of the film contains almost no action, but is instead just the monk and the scribe talking about what might have happened thirty years earlier, while gorgeous visions of a lost Golden Age play out on screen. It's that loss that is at the film's heart: a movie motivated by people who have had a vision of perfection (a woman, a world, a poem) and lost it, and the anguish that can cause. And it's about the lengths they'll go to to bring it back, defying the laws of physics and even death itself for that end.
The film's vision of the present isn't quite degraded enough for the dichotomy to work, though. Chen is still as decorous as ever (fans of Farewell My Concubine need have no fear: the costumes here are just as decadently lustrous). Even his lost world, which should be significantly diminished even 30 years after the An Lushan Rebellion, possibly the bloodiest conflict of the entire Middle Ages, looks pretty nice. But maybe that's to the point: that even in relatively prosperous times, not unlike our own, the lure of the ideal can still be destructively strong. Maybe it's time to let the old dreams die.
I opened at random my copy of David Hinton's translation of Selected Poems of Li Po, looking for something to tie into this lovely, sad, weird movie. This is what I found:
Making My Way Toward Yeh-lang in Exile, I Remember Walking Among Peach Blossoms Long Ago at Autumn River
Peaches in blossom, spring waters high,
white stones appear, then sink away,
and rustling wisteria branches sway,
a half moon drifting azure heaven.
Who knows how many fiddleheads wait,
clenched along paths I once walked?
In three years, back from Yeh-lang,
I'll resolve my bones into gold there.