Journey to the West: Conquering the Demons (Stephen Chow & Derek Kwok, 2013)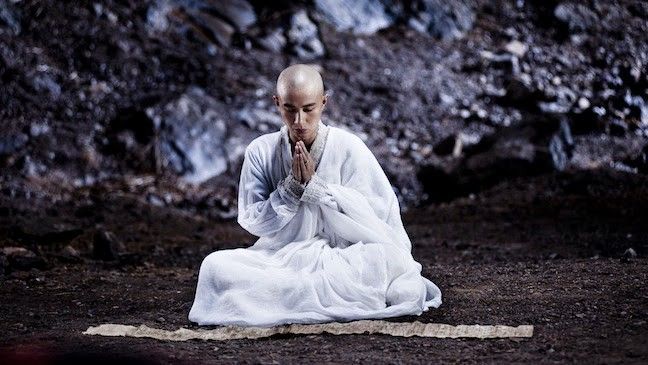 I see a lot of complaints that this, the latest from Stephen Chow, is "no Kung Fu Hustle (or Shaolin Soccer)" which, yeah sure, it's a different kind of movie than those. Those were the culmination of 15 years of Chow's comedy style, which burst on the scene in the early 90s with a string of smash hits built around lowest common denominator wordplay and slapstick parodies of popular genres (gambling movies with All for the Winner, cop movies with Fight Back to School, wuxia films with the Royal Tramp and Chinese Odyssey series, among many others). Chow was arguably the biggest Hong Kong star of the 1990s, and Kung Fu Hustle in particular is a masterpiece, the pinnacle of the kung fu parody, driven by CGI to fully realize the live-action Looney Tunes-quality this era of Hong Kong comedy always strived for.
Journey to the West though has entirely different ambitions. It's still quite funny of course, and like most contemporary Hong Kong films (or Hong Kong/Chinese, the various industries are increasingly intertwined) it is driven by special effects, most of which look quite good, and action. But building on the somewhat rote spiritualism of Kung Fu Hustle, Chow, along with his co-director Derek Kwok and a host of co-writers, appears to be exploring Buddhism with some allegorical seriousness. Freely adapting one of the Four Great Classical Novels of Chinese Literature, a work that has inspired numerous film adaptations, including the Chow-starring two-part 1995 film A Chinese Odyssey (written and directed by Jeffrey Lau) and the latest film from Taiwanese auteur Tsai Ming-liang, the film follows the growth of a young monk in training to be a demon-hunter. Played by Wen Zhang with an open earnestness very different from the cocky fools played by Chow in his prime, the young monk attempts not to destroy the demons, but rather rehabilitate them by freeing the good that he's convinced still lies within them, Skywalker-style. Demon-hunting being something of a growth industry in troubled Tang Dynasty (circa 600s AD) China, he quickly finds himself with a rival, played by frequent Hou Hsiao-hsien star Shu Qi. She takes the opposite approach, using some magic rings and nifty combat moves to ensnare the demons, a task she proves much more adept at than Wen.
Shu Qi takes a liking to Wen, not because of his charm or handsomeness, but rather because she's attracted to the purity of his motives. And, having taking a vow of celibacy, his refusal of her advances only convinces her further of his righteousness, turning her on even more. As they encounter a series of demons (a giant fish monster, then a serial-killing pig, finally the Monkey King himself), she keeps trying to trick the monk into falling in love with her (or at least having sex with her), going so far as to set up an elaborate and bloody ruse (leading to one of the film's best recurring gags as one of her henchman's special effects goes awry). This episodic quest narrative, leavened with liberal amounts of outsized action and comedy and some truly inspired images (a demon-hunter with a notable foot, for one), is pleasant enough, but by the end of the film it becomes apparent that every episode has its role in the allegory Chow is building.
Each of the demons is a human whose soul has been poisoned by tragedy, their perversions the direct result of desire and attachment. They are markers for the things the Buddhist must renounce in order to achieve enlightenment. The fish demon is after revenge on a village that wronged him in a horrible way. The pig demon was consumed by jealousy after his wife cheated on him. The Monkey King, greatest demon of them all, dared to defy Buddha himself in declaring war on heaven in a psychotic expression of personal freedom. They represent impulses the monk must rid himself of, negative desires that lead people to their own destruction. At the same time, Shu Qi's demon-hunter, who the monk has (chastely of course) come to love, embodies all that he must leave behind. Because enlightenment isn't just about renouncing life's negative impulses, it's also about understanding loss and suffering, and you can't understand loss if you don't have something you love that you have to let go.
So, rather than building to the kind of anarchic extravaganza that culminated Chow's best-known efforts, Journey to the West becomes increasingly serious as it goes along (not that there isn't darkness throughout the film, as each of the demon episodes features some shocking horrors). It doesn't follow the escalating structure of classic screwball and slapstick comedies, instead it follows the spiritual journey of its hero (similar to the path trod by King Hu's A Touch of Zen) tracing an epic arc from grounded realism through increasing abstraction to a kind of transcendence. Kung Fu Hustle is a feint in this direction, as Chow's hero ultimately masters kung fu and attains a kind of enlightenment, in a parody of traditional martial arts films like The 36th Chamber of Shaolin. But Journey to the West takes the ideology behind the generic form seriously and infuses it into its very structure. Chow plays it straight and the result is something I never expected: Stephen Chow's Au hasard Balthazar.