Ip Man 3 (Wilson Yip, 2015)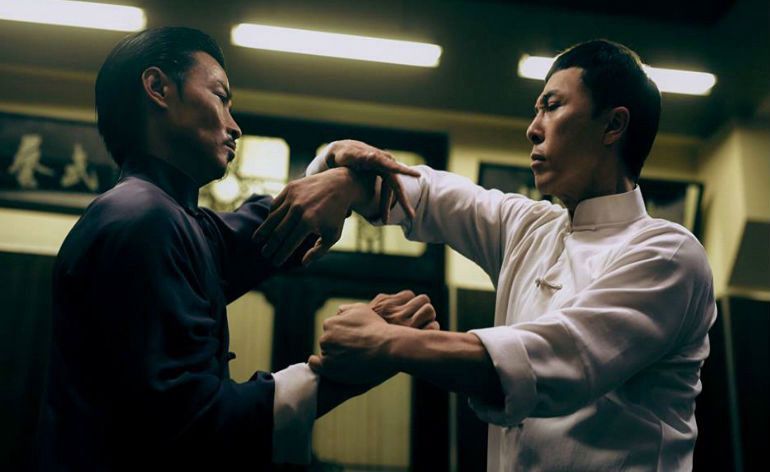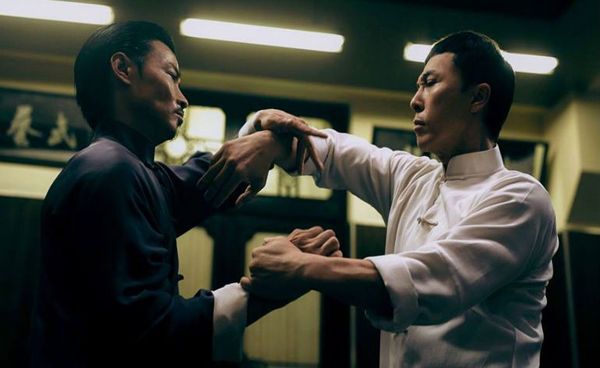 Ip Man 3 is the third film directed by Wilson Yip starring Donnie Yen in the title role as the master of the Wing Chun style of kung fu. Ip is best known as one of Bruce Lee's teachers, and his notoriety and fame to this day is largely dependent on that famous pupil who still, 40 years after his untimely death, casts an engulfing shadow over Hong Kong cinema. This is the sixth Ip Man film to be released in recent years: the three by Yip and Yen; two directed by Herman Yau starring Dennis To and Anthony Wong as young and old versions of Ip in The Legend is Born — Ip Man and Ip Man: The Final Fight, respectively; and Wong Kar-wai's The Grandmaster, starring Tony Leung. Of the series, only the Yau films really attempt to capture the historical Ip Man in any kind of accurate way. The outline of his story is the same in all of them: a cop on the Mainland before World War II, Ip moves to Hong Kong after the war and establishes his kung fu school where he develops and perfects Wing Chun, a form of kung fu emphasizing quick movements in close combat. Wong's film uses Ip's story as a vehicle for a meditation on history and continuity, a memory film haunted by the radical changes China suffered over the course of the 20th century. Yau's films pay particular attention to details: of the Wing Chun form in the first film, of the older Ip's peculiar psychology and the strains within the family of disciples he built around himself in exile in the second. But Wilson Yip's films simply use Ip's biography as a rough framework for telling generic kung fu movie stories, films with simple moral lessons and spectacular action.
The latest film is more disconnected from the reality of Ip's life than any of the previous ones. It's where the series finally breaks with any pretension to biography and instead turns Ip into a folk hero, a legend in the mold of Wong Fei-hung, a just-as-real person whose life has been adapted into a hundred or so films over the past 65 years (a long running series of films in the 50s and 60s starred Kwan Tak-hing and served as a training ground for many greats of the golden age of kung fu cinema, including director/choreographers Lau Kar-leung and Yuen Woo-ping). The plot revolves around Ip defending his young son Ip Ching's school from a gang of toughs hired by a corrupt businessman to extort the school's principal into selling the property. The businessman is played by none other than former heavyweight champion of the world Mike Tyson, and the inevitable Tyson-Yen brawl is the film's primary drawing card and it does not disappoint. In fact all of the action in the film is exceptionally well done, if aided a bit too much by digitally speeding up some movements, the choreography is creative (by Yuen Woo-ping) and Yen, as always, is a precise and compelling fighter. A parallel story follows a younger Wing Chun master (Zhang Jin), who follows the form more purely but is also more morally dubious (he fights for money in an arena and has no qualms about using excessive force against his opponents). In both of these plots, Ip is a paragon of virtue, the serene and humble master ever generous and forgiving, always behaving honorably. That honor is tested however by a family crisis: his beloved wife Wing-sing is suffering from cancer, will Ip put aside the demands of the martial world to care for her?
Not to spoil things, but of course he will. But here's the thing: if you've seen Ip Man: The Final Fight, you know what's wrong with this story. When Ip Man moved to Hong Kong, he was accompanied by his wife (Wing-sing) and children (Chun and Ching). However, Wing-sing hated the city and soon moved back to the mainland (to Foshan, coincidentally also Wong Fei-hung's hometown) and never saw Ip again. The most heartbreaking scene in any Ip Man film comes in Yau's second film, when the real Ip Chun plays a shopkeeper who tells Ip Man he has a phone call. Chun then watches as the actor playing the younger version of himself tells the actor playing his father that his mother has died. Ip Man 3 presents a wholly fictional version of the story, with Ip and his wife together to the end, with him ignoring challenges from rival fighters for the sake of spending a few final days with her. It really is lovely stuff, and some of the most human-seeming acting of Donnie Yen's career. But it's all phony. A screenwriting committee's version of what a kung fu hero really should be like.