Heroes Shed No Tears (John Woo, 1986)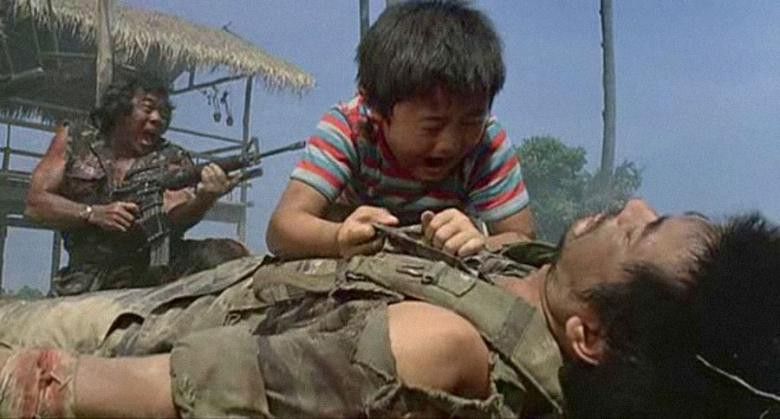 Sharing a title and nothing else with Chor Yuen's 1980 wuxia epic, this was John Woo's project immediately preceding his breakthrough A Better Tomorrow and only released after that film's success. It's easy to see why Woo had initially decided to leave this shelved. It's probably the most ridiculous thing I've ever seen from him, the kind of movie people who don't like Hong Kong movies think all Hong Kong movies are like. That said, it's still a ton of goofy fun.
Eddy Ko leads a small commando squad of Chinese mercenaries into the Golden Triangle (the nebulous border region between Burma, Cambodia, Laos, and Vietnam that is the source of much of the world's heroin, or at least was in movies from the 1980s) to arrest a drug kingpin and bring him to justice. They get the guy and escape, chased by his heavily-armed men. At the Vietnamese border, they arouse the ire of the local army outpost (led by the great Lam Ching-ying, probably most well-known as the star of the Mr. Vampire series), who join the chase. The Army then forcibly enlists the assistance of the local hunter-gatherer/ninja tribe. Of course, for some reason Ko has brought on this mission into the most dangerous place on Earth his young son, generally useless sister(?), and elderly father, who must of course be protected (the father doesn't last long, spoiler!), along with a whiny French woman they rescue from the Army along the way.
So what we have is the makings of a pure chase-through-harsh-terrain movie, along the lines of Cornel Wilde's The Naked Prey, Powell & Pressburger's Ill Met By Moonlight, or Rambo: First Blood Part II. For better and worse, this is more in the class of that last one than either of the first two. There's a lot of men standing around with really heavy machine guns mowing down bad guys who can't shoot straight and a lot of poorly motivated plot turns. Only the most obvious is the unanswered question of why this guy brought his family along. Did that bit of exposition get cut out and no one noticed or cared? Is it somewhere in the 11 minutes that were in the Hong Kong version that aren't in the 82 minute international cut, or did Golden Harvest cut it out even before releasing it locally? IMDB says those 11 minutes have an expository scene between Ko's character and his "sister-in-law", so I guess that's how she's related and maybe that explains it? Who knows.
Beyond that is a truly bizarre idyll near the end of the chase. Ko has led his motley crew to a hut on stilts in a clearing in the jungle, occupied by a spacey American. The American is an old friend of Ko's (they saved each other's lives in the War), and lives in this hut, surrounded by explosives, trip wires, and bombs of all kinds, with three women in flowery dresses who never seem to speak. Now, I don't know what's stranger: that with three armed bands of killers bearing down on them, our heroes decide that a straw hut packed to the rafters with high explosives is an ideal defensive position, or that on the eve of said attack, rather than preparing for their defense, the American and his lady friends partake in some R-Rated drugs and group sex debauchery. I mean, sure, you don't have to shed tears, but how about a little common sense?