Golden Job (Chin Ka-lok, 2018)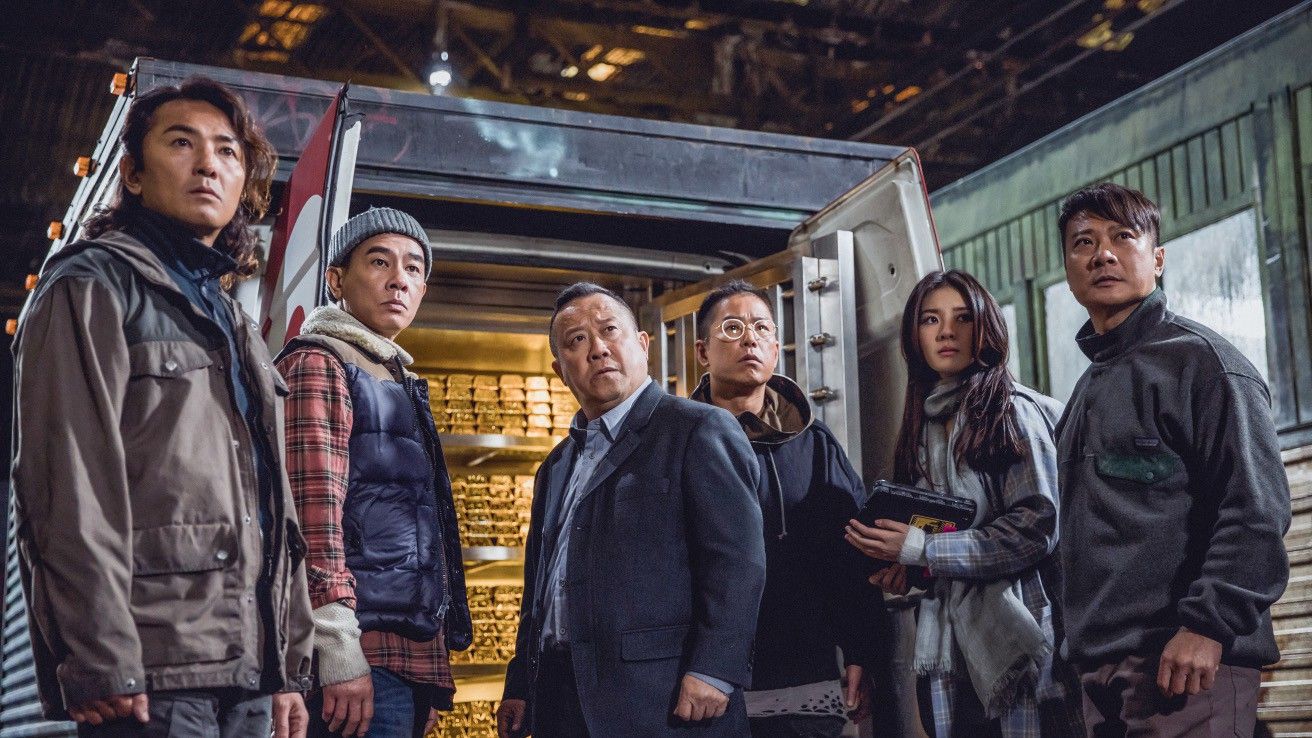 In the wake of the 1997 Handover, when Hong Kong turned from a relatively independent British colony to a Special Administrative Region of the People's Republic of China, the Hong Kong film industry, which had been for most of the previous 30 years or so one of the glories of the world, almost completely collapsed. Uncertainty was the primary cause, both in economic and political freedom, which led many of the industry's brightest talents to seek employment in the United States and beyond (Jackie Chan, John Woo, Tsui Hark, Sammo Hung, Jet Li, Ringo Lam, Michelle Yeoh, Corey Yuen, Ronny Yu, etc), while the excesses of production in the 80s and early 90s, plus infiltration of unsavory, criminal elements into the filmmaking business, led to the dissolution of most of the major production houses that had led Hong Kong's last Golden Age. But still, the Hong Kong cinema didn't collapse entirely: Herman Yau kept churning out low-budget horror and gangster films (as he continues to do to this day); Johnnie To founded his own studio, which found a way to produce anywhere from two to six high quality films a year, both popular entertainments and idiosyncratic personal explorations of genre; Stephen Chow, who for much of the mid-90s was the only star who mattered, single-handedly keeping the industry afloat, began directing and producing increasingly ambitious and accomplished work. But above all, the Young & Dangerous series struck a chord with the youth audience, leading to something in the neighborhood of a dozen sequels, prequels, and spin-offs between 1996 and 2001.
The Young & Dangerous films, shepherded by director Andrew Lau (an accomplished cinematographer (he shot Wong Kar-wai's debut As Tears Go By and parts of Chungking Express, he also co-directed the Infernal Affairs films, the first of which came out in 2002), were a cheap, glossy, teen idol-driven, comic book variations on the Heroic Bloodshed sagas of the late 1980s. Stars Ekin Cheng and Jordan Chan had fancy hair and stylish clothes and a propensity for finding themselves in musical montages depicting the anguish and joy of violent brotherhood. They are wholly absurd and a great deal of fun. Now, more than 20 years after the first installment, director Chin Ka-lok reunites the stars of the series for Golden Job, a maudlin action film about brotherhood among formerly stylish middle-aged men.
Five "brothers", friends since they were orphans together, work as vaguely immoral mercenaries for hire, kind of like the A-Team, but with more hugging. One of them goes bad and betrays the group, and the others have to, well, not really seek revenge, but do something to fix his errors. The film skirts topics familiar from recent Chinese action films (the pharmaceutical foul play of Woo's Manhunt and Lam's Sky on Fire, the paternalism of China's relationship with East Africa from Wolf Warrior II), but in most ways it is a throwback to those older movies, albeit with much more expensive and impressive action sequences.
Director Chin is a former member of Sammo Hung's stunt team with a long career as an actor and fighter, though this is only his third film as a director in his own right (he did Aces Go Places '97 with Tony Leung and Alan Tam and the 2002 Yuen Biao film No Problem 2). His action scenes are solid, if not original. Capable facsimiles of the military maneuverings of Operation Red Sea and vehicle stunts that honestly aren't all that much worse than what you'd see in a Mission: Impossible movie. It's just hard to take them seriously because the rest of the film is so generically earnest, its aged heroes so out of step with the times that their posed male laughter and tears play even more absurdly than they did twenty years ago.
The difference isn't with the film's earnestness. That was always there in the Young & Dangerous movies: their sentimentality is entirely believed. But what those earlier films also had were brilliant supporting performances, like Anthony Wong chewing up scenery and picking his nose, or Simon Yam at his oiliest, which served to cut the sap with a bit of irony or acidic cruelty. Golden Job has Eric Tsang being wise and noble as the gang's father figure, which is a complete waste. In fact, the only actor who seems to be having any fun at all is Kurata Yasuaki, who continues his late career rebirth with a far too brief appearance. His short fight scene is the best one in the film, though it's also the smallest and probably the cheapest.
Clement Cheng and Derek Kwok's Gallants similarly revived stars of the past now well into middle-age into a genre film, one with its share of sentimentality but also one that updated the genre stylistically and ideologically for a new era. Golden Job plays everything straight, all as it would have been done twenty years ago, and as a result there's nothing to leaven the soapiness, leaving a bunch of nice action sequences surrounding a sickeningly schmaltzy core.