Final Victory (Patrick Tam, 1987)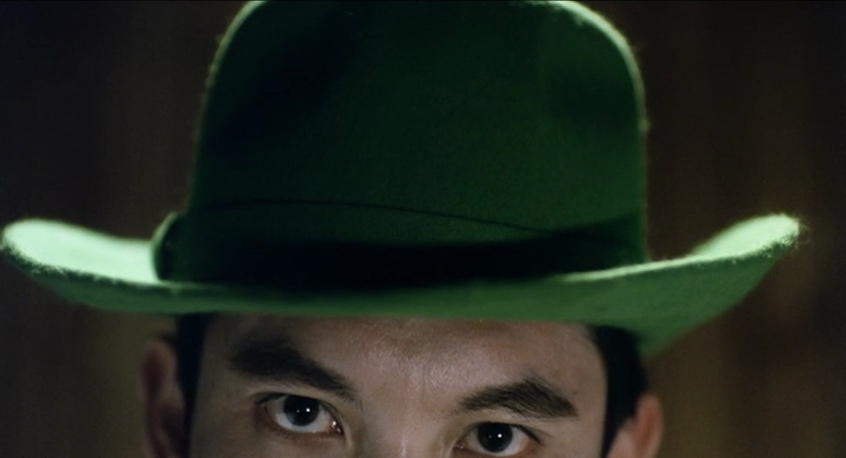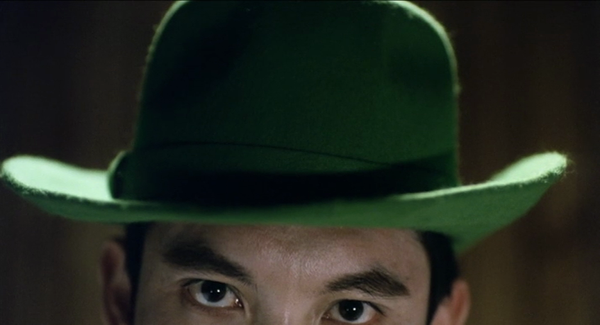 A pair of eyes stare at us from under a green bowler hat. Then Eric Tsang looking uncomfortable, also facing us. Back to the hat, now revealing the whole face under it, that of Tsui Hark: pale, bearded, and glaring. Back to Eric Tsang, scared perhaps by Tsui, perhaps by the soundtrack, sirens and gunfire coming from somewhere. Cut to a woman, short-haired, looking off-screen to the right, forlorn and dripping wet. Then the opening credits, a vibrantly colored cityscape accompanied by the crooning of a pop song. Six shots in thirty seconds and Patrick Tam has perfectly set up the delirious world of Final Victory, a film about love found in the unlikeliest of places with the unlikeliest of heroes.
Final Victory was written by Wong Kar-wai, one of the last screenplays he wrote before his 1988 directorial debut As Tears Go By, and in this intersection of genre film and full-blown romance, it is consistent with his later works, where the primal DNA of films like Days of Being Wild, Fallen Angels, and even Chungking Express can be found in Hong Kong cop/gangster sagas (while As Tears Go By is more explicitly and totally a Triad film). And it's also very much a match for Tam's New Wave approach, built around the wildly flamboyant aestheticizing of traditional Hong Kong genre films (as seen as well in Cherie, a demented romcom in the Cinema City tradition, and My Heart is that Eternal Rose, an even more tragic heroic bloodshed/romance). Tam would be a key figure in Wong's career, helping to edit both Days of Being Wild and Ashes of Time, and it's very easy to see Wong's more popular 1990s films growing out of the directorial approach Tam pioneered in the 1980s. As such, Final Victory marks a kind of transition point, the sensibilities of the two auteurs perfectly in sync.
Tsui Hark (thanks to a typo in the opening credits he's billed as "Tsui Mark") plays a Triad boss who is about to be sent to prison for six months. He tasks his lifelong friend Eric Tsang, a meek, slightly pudgy bumbler, with taking care of his two girlfriends, Ping (Margaret Lee) and Mimi (Loletta Lee)[1].⁠ Both women immediately get into trouble: Ping with gambling debts to a local gangster and Mimi in Japan, where she finds herself forced to work in a strip club. Tsang rescues them both, and in the process Mimi falls for him and he for her.
The first half of a film is largely comic farce, as Tsang barely negotiates the dangerous Triad world and the much more dangerous demands of the two women (Ping in particular is loud and abrasive), while trying to not let them discover that they're both involved with Tsui. The second half, as Tsang is torn by his loyalty to Tsui and his love for Mimi, is pure romance, complete with wistful smoking and drinking by moonlight, red-lit karaoke performances and dangerously foolhardy robbery schemes.
The casting of Tsang as the hero is a masterstroke. Where later Wongian romantic heroes will be dashingly gorgeous men like Leslie Cheung, Andy Lau, and Tony Leung, Tsang, horse-voiced and soft-bodied, disrespected by everyone he meets but with a pure heart and real sense of devotion and honor, is a perfect everyman, just as Tsui, tall and gangly, makes for a surprisingly menacing mob boss. The film could be a parody of later Wong films, were it not for the earnest performances and sincere belief in love at its core. Tam surrounds them with brilliant colors, and his blending of outrageous fashion, pastels and primaries, big hair and bigger emotions are reminiscent of Women on the Verge of a Nervous Breakdown-era Almódovar. But that expressiveness rests uneasily alongside a dark undercurrent of mostly implicit violence, exploitation and cruelty[2],⁠ men and women trapped in a movie genre they don't belong in, trying desperately to break free, into another kind of world.
---