East Meets West (Jeffrey Lau, 2011)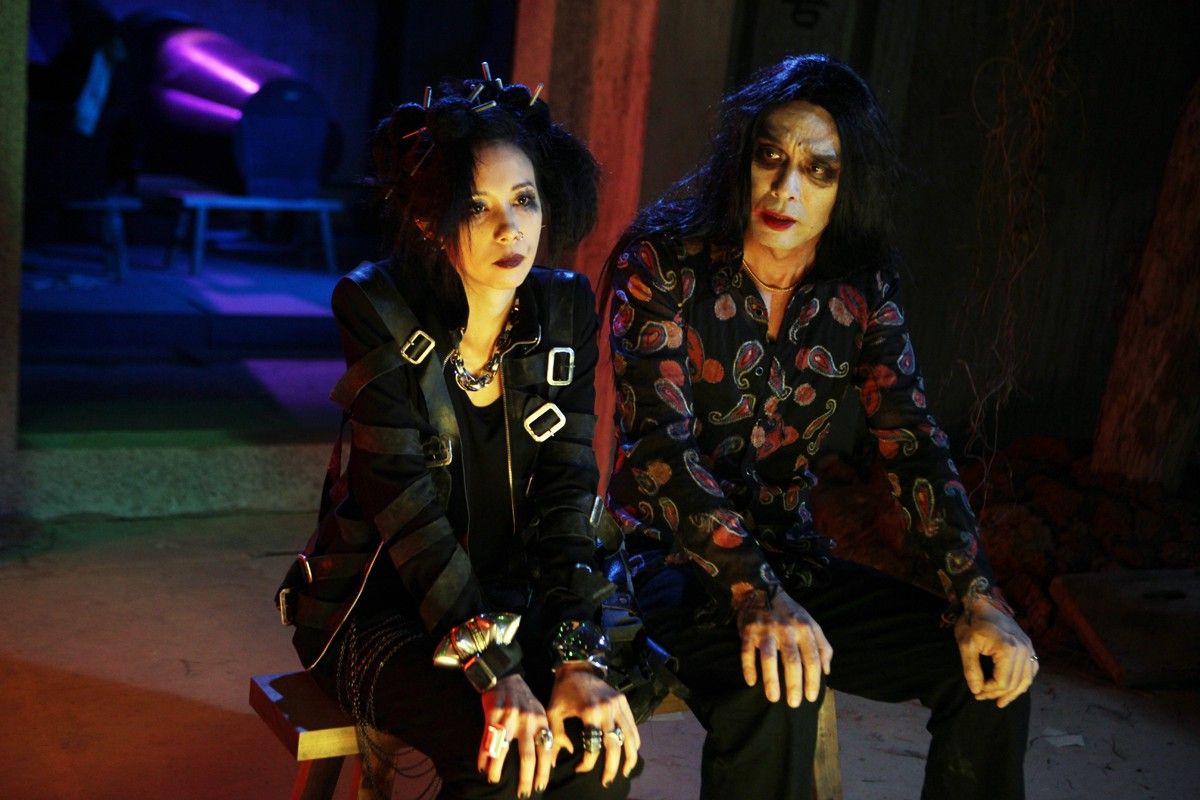 Jeffrey Lau's 1994 film The Eagle-Shooting Heroes stands out among the weird and wacky world of Hong Kong comedies as possibly the weirdest and wackiest, at least in my fairly small sampling. A parody of the same source material that formed the basis for Wong Kar-wai's Ashes of Time, and featuring most of the same cast (it was shot either concurrently or just after that film, in an attempt to recoup some of the epic's cost overruns), it sticks mainly in my memory as the film in which the great Tony Leung spends much of his screen-time impersonating a duck. Lau also directed the two-part Stephen Chow epic A Chinese Odyssey, which is weird even for Stephen Chow. So it was with much excitement that I rushed from the VIFF 2012 screening of People's Park to see East Meets West. I was not disappointed.
It starts with a lightning-fast thirty minutes or so, when a whole bunch of characters are introduced, and back stories given, while jokes fly by quicker than edits. One character, played by Karen Mok, finds her father, a former major pop star played by former major pop star Kenny Bee working in a haunted house: "Being a zombie is a perfectly respectable profession!" he insists. They set off to find her hated step-mother ("It's God's will that I go to Guangzhou to chop the bitch!") who has gotten them into trouble over some debts. They hook up with a rich girl musician, her bodyguard, a single dad and his son, and a wannabe actor/cab driver as they flee from hordes of homeless musicians ("Don't drive so Donnie Yen!") and reunite Bee's band ("The Wynners" which was Bee's real-life band) to hold a fundraising concert.
It turns out these people are all reincarnations of a group of gods that have been fighting a multi-millennia struggle against the eighth member of their group, who became twisted and evil and defeats them in every lifetime. Lau has a lot of fun with the superheroes in the modern world conceit (their makeshift costumes are terrific: a bicycle helmet, a face covered with flour, single-lensed sunglasses, etc), a pleasant contrast with the bleak and miserable worlds of Hollywood films like Kick-Ass or Christopher Nolan's Batman movies. And while the special effects are merely okay, giving the film a kind of plastic, phony sheen found also in recent films from Tsui Hark, Lau manages to create some nice, memorable images (though he doesn't quite have Tsui's elegance as a visual filmmaker). The film loses some narrative steam towards the end, but it never stops being fun and clever. Even when Lau goes for sap, it goes for the biggest, gooiest, cheesiest love-conquers-all-even-a-heart-ten-sizes-too-small sap it can muster.