Cook Up a Storm (Raymond Yip, 2017)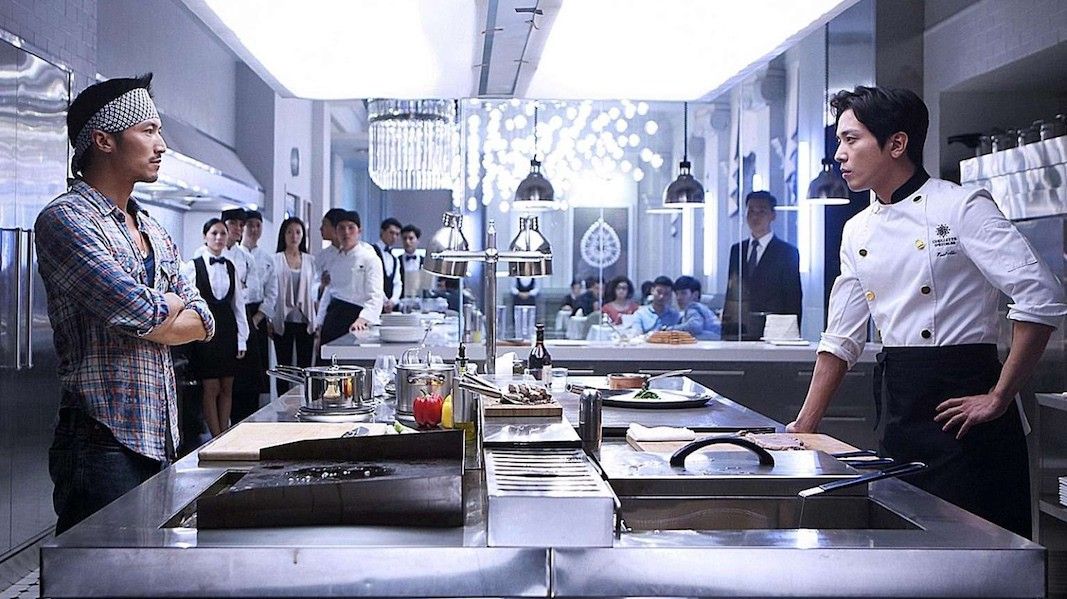 One of only two Hong Kong films to be playing at SIFF this year is this cooking movie from star Nicholas Tse and director Raymond Yip. It's a Lunar New Year film, opening a week after the holiday both at home and abroad, to avoid box office competition from Tsui Hark and Stephen Chow's Journey to the West: Demons Strike Back. It played here briefly at the Pacific Place, but SIFF is reviving it for the festival. I'm not exactly sure why, probably because of the food. Director Yip is strictly workmanlike, the guiding force behind the film is Tse, who has been one of the more interesting figures in Hong Kong cinema over the past twenty years. The son of star actor Patrick Tse (Story of a Discharged Prisoner), he began as a popular singer before moving into movies (Time and Tide, Jade Goddess of Mercy, Bodyguards & Assassins) and television (where he hosts and cooks on a popular foodie show called Chef Nic) and a series of romantic entanglements with Faye Wong and Cecilia Cheung. Cook Up a Storm appears to be an attempt to extend the Chef Nic brand, as Tse plays a local Cantonese chef challenged by a European-trained, Michelin-starred chef who opens an upscale restaurant across the street. Both Nic and the new chef (a truly international man: half-Korean and half-Chinese, raised and trained in Europe, he's played by Korean singer/actor Jung Yonghwa) have secrets which they must overcome to win a game show-style culinary competition.
A kind of White Elephant variation on classic Hong Kong cooking films, the film nods to ideas of gentrification and the loss of local Cantonese culture as Hong Kong is assimilated into Mainland China and increasingly integrated into the global capitalist system, but explores them with no real specificity. The sets have the picturesque yet generic blandness that plagues too many contemporary Chinese films, even Hong Kong ones, and similarly there is no flavor of local culture or identity. It's a film about the value of a local cuisine and culture that flattens out that culture in order to appeal to as broad an audience as possible. This is exactly the opposite approach Michael Hui took in his 1988 film Chicken and Duck Talk, where his dirtbag local duck restaurant is challenged by a corporate chicken shop. Chef Nic's restaurant and its centrality to its neighborhood is asserted and occasionally emphasized with crane shots and a random assortment of oddly-coiffed locals, but never comes alive. This is possibly because the film also wants to be a generational story, with Tse having to overcome his Tom Cruise-esque feelings of inadequacy toward the father who abandoned him twenty years earlier. Anthony Wong plays the father, and Ge You the chef who takes Nic in (yes, this is the kind of film that casts a brilliant Mainland actor as the master of Cantonese cooking), but neither character makes any kind of sense and even actors as great as they are can't do much with them. And topping it all off is Jung's story, which simply doesn't make any sense after a confounding plot twist in the film's final third (why did he move to Hong Kong? What is his relationship with the woman who betrays him? Who knows!).
Where the film does shine is in its images of food, especially some extreme close-ups early in the movie. But there's hardly enough cooking to make up for the lunacy of the plot as the film reaches its climax (the eligibility rules for the various rounds of this game show make absolutely no sense). And with all the half-developed plot and theme moments, there's hardly any time left for actual cooking. Derek Hui's romantic comedy This Is Not What I Expected, playing now through Thursday at the Pacific Place, is both a vastly more satisfying story, and, in featuring more and prettier cooking and a genuine interest in what it means to characters who feel like actual people rather than plot constructions, a purer expression of foodie love.