Chasing the Dragon II: Wild Wild Bunch (Wong Jing & Jason Kwan, 2019)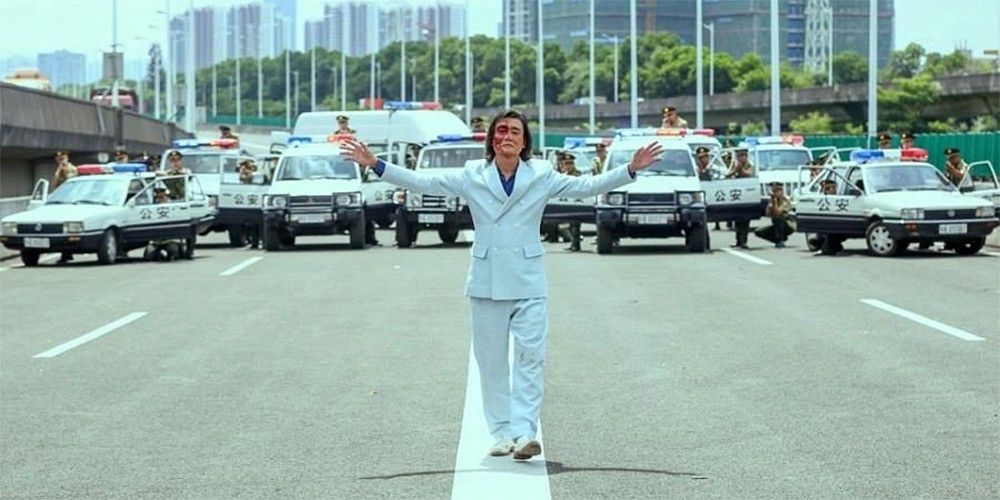 Don't let the title fool you: in fine Hong Kong tradition Chasing the Dragon II has no relation whatsoever to Chasing the Dragon, a 1970s-set crime epic starring Donnie Yen and Andy Lau that came out a couple of years ago. The only thing the two movies have in common is that they're crime films and that Wong Jing and Jason Kwan (as cinematographer and co-director) are to blame for them. Wild Wild Bunch is set on the eve of the Handover, in 1996, as Louis Koo is sent undercover as a bomb-maker to ensnare kidnapping kingpin The Other Tony Leung. He's a Hong Kong cop, working in cooperation with the Mainland police, to catch bad guys in Macao. Wong Jing has for forty years now made a career out of pandering to the basest pleasures of the genre film fan. He's the most prolific bottom-feeder in Hong Kong, incorrigible master of cheap, tasteless sensationalist cinema. His comedies are silly and crude, his action films bloody and bombastic. Now finding himself in a new socio-political environment, he seems to be doing his best (such as that is) to appeal to a whole new audience: the Chinese security state.
In broad outlines, the plot of Wild Wild Bunch makes sense: undercover cop keeps getting trapped in suspenseful situations, including bomb diffusing and car chases. And certain moments do stand out: Wong and Kwan have a knack for the hyperbolic image (one of a bad guy dying in a car, metal rod jammed though his head, futilely grasping at a $1,000 bill on the other side of the windshield, is something I haven't seen before), but almost every scene in the film, if looked at with even minimal scrutiny, reveals itself to be utter nonsense. My favorite: PRC cops set up a roadblock for escaping bad guys on the wrong side of an intersection, allowing the crooks to simply make a left turn to avoid them. This is the kind of joyous laziness we've all come to expect and, if not exactly love, then at least tolerate out of Wong Jing.
In the film's final moments, spoilers ahead here, though God knows how anyone could spoil a Wong Jing movie, Koo leads Leung across the border, into the arms of the Mainland military, which, despite their ineffectuality at blocking roads, is otherwise vast, powerful and ruthless. This could easily be read as a paean to the PRC's no-nonsense efficiency (as well as their habit of extraditing people from supposedly autonomous jurisdictions), but there might be something else going on. Because, for all his loucheness, Wong has always been just a bit more clever than he appears. It's not hard to project Wong himself (and thus the old, weird Hong Kong) onto Tony Leung's character, a loud, cruel man of greed and familial loyalty, dressed in white, throwing tattered bills in the air in a gesture of joyous release as he raises his arms in surrender to the Mainland cops. The film fades to black and then returns, and instead of the final credits we get a brief series of images scored to what passes these days for Chinese rock music. Leung is escorted out of his prison cell, while we see images of his past, open skies and roller coaster rides, he is taken to the side of a dusty road and executed. And then the credits roll.