Burning Ambition (Frankie Chan, 1989)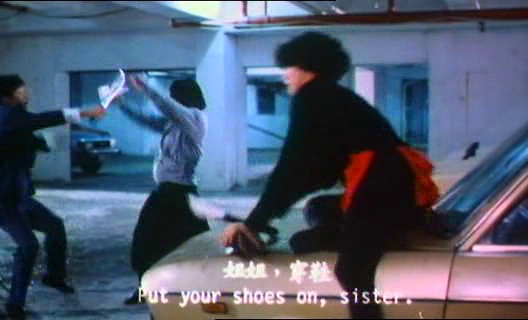 This is the first Frankie Chan-directed film I've seen, after knowing him only from his supporting roles in Sammo Hung's The Prodigal Son and Carry On Pickpocket and for his work as a composer for dozens of classic martial arts films (The 36th Chamber of Shaolin, The Five Deadly Venoms, Five Fingers of Death, etc) as well as Wong Kar-wai's classic 90s films Chungking Express, Fallen Angels, and Ashes of Time. I had to check a few different sources to make sure there weren't in fact two Frankie Chans, one a composer, one an actor/director, as is the case with the Raymond Wongs (Wong Pak-ming is the actor/screenwriter and Cinema City co-founder; Wong Ying-wah is the composer for a number of Johnnie To, Stephen Chow, and Tsui Hark classics). But no, they do indeed appear to be the same guy.
Burning Ambition is a remake of Shogun's Samurai, a 1978 Fukasaku Kinji movie starring Sonny Chiba which I haven't seen, though the script is solely credited to "Frankie's Script-Writing Group." Roy Chiao plays the head of a Triad family who announces at dinner that when he dies he's gonna hand the reins to his younger son, Simon Yam, instead of the elder one (a dumb playboy). Chiao is almost immediately killed by one of his lieutenants, who hopes to maneuver the dumb son into command so he can be the real power. In the ensuing gang civil war, his older son and both of his daughters (Kara Hui and Oshima Yukari) are killed, in spectacularly brutal fight sequences packed with dangerous flips and falls and a whole lot of broken glass (Hui is only in the film for a little while, but her fight is one of the best things she's done in her whole post-Lau Kar-leung career). Frankie Chan is the fourth child, and he returns to Hong Kong from Holland with a motorcycle gang and proceeds to wreck everyone. Betrayals and mayhem abound, and everybody loses.
Maybe it's the presence of Yam, looking so young here but already perfectly slimy, but this feels like a forerunner to Johnnie To's Election films. Except rather than a sophisticated allegory about the limits of democracy under capitalism and/or the PRC, the emphasis is instead on the personal cost of ambition. The final showdown between Chan and his father relies on Chan caring a whole lot for his motorcycle buddies, and the father not caring at all about his children, which seems more schematically necessary than actually true to life or character, but the point is effectively made with some loud expressive acting and even more broken glass.