Big Brother (Kam Ka-wai, 2018)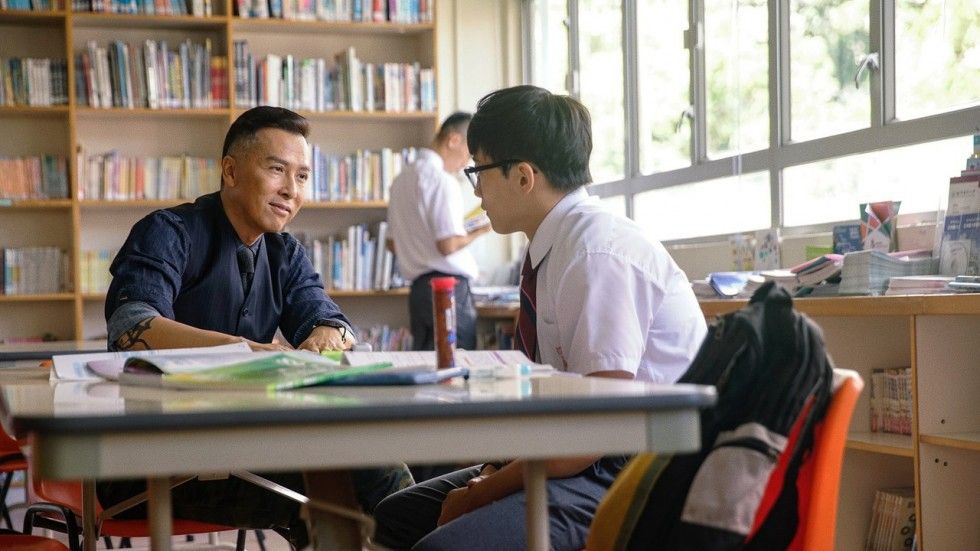 Into the hallowed tradition of high school movies wherein juvenile delinquents are straightened out by an unconventional teacher steps none other than Donnie Yen, his furious fists solemnly taking up the mantle of Blackboard Jungle, Stand and Deliver, and Dangerous Minds. It's clearly a project that means something to Donnie, built around his persona as a deeply felt act of giving back to his community, which is why it hurts so much to say that it is the corniest movie I've seen in a very, very long time.
Donnie drops into a high school teetering on the edge of closure. Its graduates haven't been going to college and local developers are eager to seize the land, both of which would be interesting social problems were they to be explored at all, in particular the complicity between developers, local gangsters, and the local school board. Instead we're introduced to five kids, four boys and a girl, each of whom is failing at school. Donnie, with his bright smile and wacky methods (he truly does break all the rules) spends the first half of the movie getting to know each kid in turn and solving their problem for them. One boy, whose family emigrated to Hong Kong three generations ago, wants to be a singer but suffers from stage fright caused by years of discrimination. Donnie helps him by just having him sing in public, which solves racism. The girl wants to be a race car driver but her dad thinks she's worthless, because she's a girl. And so Donnie reunites them by having them race mini-cars through the streets of Hong Kong (Donnie alone does not wear a helmet). This solves sexism. And so on to cure alcoholism, poverty, gangsterism, and study-drug addiction.
In the second half of the film comes Donnie's inevitable downfall, with first a brawl in a locker room before a big MMA match, and then when a student falls victim to a tragic plot-line from Dead Poets Society. There's a showdown with a gang and a last-minute race to take a standardized test. It's all well-meaning and extremely shallow, with no understanding of or interest in either the institutional problems of the education system, the social environment of underprivileged students, or any idea of what real reform would look like. Donnie's solution is basically that everyone just needs to communicate better and try harder.
Coming on the heels of Weeds on Fire, which was similarly plagued with cliché but at least had a strong sense of place, or Bad Genius, which managed to both seriously explore the real class conflicts at work in contemporary high schools while also being a first-rate thriller, let alone an incendiary masterpiece like Ringo Lam's now 30 year old School on Fire, Big Brother is at best a hollow gesture, of interest mostly for its star's performance, and what it tells us about how he regards himself. In the middle of the film is a flashback montage showing how Donnie ended up at this school, taking him from his delinquent days through moving to America, joining the Marines, and seeing combat in the Middle East. The horrors of war lead him on a further montage of world travel, discovering humanity to the plaintive sounds of a James Blunt tune. The result of his enlightening journey is his commitment to giving back to his community, which is surely a noble impulse. But it's one that requires more than this movie to fulfill. But at least it makes me want to see Donnie remake of The Razor's Edge.